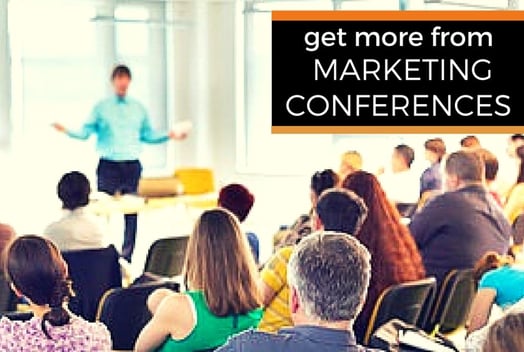 What can you do to get more value for your agency at the marketing conferences you will attend this year?
A while back, I read an article ranking the top ten conferences for digital marketing. It got me thinking about all of the conferences I've attended throughout the years. What made some of them stand out? Which ones were truly worth the time and expense? How many have actually helped me establish game-changing connections in the industry?
It's something that every agency revisits annually: which conferences are we going to, who are we sending to each of them, which are most meaningful for us to attend, and how can we get more value from the costs of attending each show? If improving value is your goal, you have to start with a plan.
Manage Expectations
Without a doubt, industry conferences are a great tool for agency salespeople to gain connections. You're in a room full of people who understand what you sell and they speak the same language as you. It's important to remember that you probably won't close any sales at the event. This may seem obvious, but I've witnessed many inexperienced and over-zealous salespeople who have tried the "conference close" and failed.
Most marketing executives go to conferences to learn, reconnect with colleagues, and maybe even have some fun. Few are actually looking to buy a product or service. Therefore, conferences should be approached as opportunities to create meaningful connections, not land deals. In short, conferences are much more about lead generation than short-term sales goals.
Here are a few good practices to follow in order to make the most of your next marketing conference:
Do Your Homework
The first step when attending a conference is to do your homework and have a plan. Read the conference agenda and select which sessions you would like to attend and which ones would be most beneficial to improve your skills. At large conferences, quite often, the breakout sessions or workshops that have the broadest appeal or offer a unique perspective fill up quickly. So if you want to be in those, don't procrastinate. Pre-register to secure your spot.
Most conferences will supply a list of attendees, or at least a partial list. Make a target list of who they are, and how best to approach them. After you have identified your targets, do some research on them and their companies. Take a few minutes on social channels (LinkedIn, Twitter, Instagram, etc.) and get familiar with the prospects you wish to engage. Often a quick search will reveal articles, posts, or videos created by or about your prospects.
Participate
Be an active participant. Ask questions in the sessions you attend. Don't be shy about questioning the speakers on points that you're especially interested in or would like clarification around. In fact, you're actually doing the speakers a favor by asking questions; most speakers dread having disengaged audiences. There's nothing worse for a speaker than asking for questions and getting a silent room in response.
Follow-up
Make a point of introducing yourself after the session and hopefully your participation will have sparked interest or at least opened the door for further conversation. Hold back on one of your follow-up questions during the Q&A portion of the session. This will give you a good reason to re-engage with the prospect either after the session or with a follow-up email or phone call.
Sell Yourself, Not Your Product
Have your introduction down. Make it a client-centric introduction and adjust slightly to whom you are speaking. Make it more about why companies work with you, common problems in the industry that you solve, etc. versus only what your company does.
Ease Their Pain
Try saying things like, "we help companies who are experiencing (pain points)"… or "Clients work with us because they are struggling with (pain points)." If your agency has a point of differentiation, which it should, and you have demonstrable expertise in an industry or various industries, you should be able to fill in the blanks fairly easily. While all companies have unique challenges, there are usually common issues of pain shared by companies within the same industry.
Stay Until the End
Lastly, stay for the entire conference. You never know when the most valuable information will present itself. And to that point, stay at the conference's designated hotel. It's a great networking opportunity, and you never know who you may bump into in the lobby or gym.
So for the next conference you plan to attend on behalf of your agency, remember to take a few simple and successful steps to target those weary marketing executives.
Do your homework and have a plan
Be passionate & well-informed
Have a conversation instead of an ill-timed sales pitch
Be prepared to ask smart questions
Listen
Create connections vs. looking to pitch your agency or close a sale
If you take the time to put a plan together before attending, you'll find your next conference to be much more productive from a learning standpoint, as well as more connective for those hard-to-reach prospects. That creates more value for your agency in two ways.
Which marketing conferences should you attend? Here's Adweek's list of 10 Conferences Every Digital Marketer Should Consider Attending, and the 20 Must-Attend Events for Agency Execs from Hubspot's Agency Blog. See you there!
Learn how The Duval Partnership helped a digital agency develop new business:
You may also want to read about 4 Ways Advertising Agency Salespeople Can Win in 2016.
Image credit: Ⓒ kasto / 123RF Stock Photo, modified by cropping, filter and text overlay.