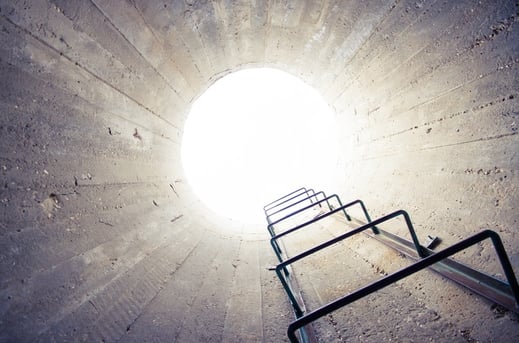 I was recently speaking with an agency owner about his discomfort with taking a proactive approach to new business. Not surprisingly, as we spoke, it was clear his discomfort was rooted in a strong aversion to sales. I say "not surprisingly" because this aversion to sales is endemic among agency owners. If we use the word "sales" in our blog title, people won't read it.
This aversion to sales creates a situation where agency owners often take a passive approach to new business, essentially waiting for referrals and dealing with opportunities as they happen to fall into their lap. The problem with that is that every opportunity isn't right for your agency. And, as the traditional source of agency new business (pitching) starts to dry up, as the pitch process becomes more costly, more competitive, and offers less ROI, it's more important than ever that agency owners diversify their approach to new business generation. That includes lead generation, new business strategy, and the ability to close new business (e.g. sales skills and sales activities).
Hate sales? Call it something else. Just as long as you find a way to get comfortable with it.
I recently re-read a book by Mike Weinberg, called New Sales. Simplified. One of the chapters (Chapter 12) was especially relevant to agency new business. First of all, it acknowledges the default "negative reflex reaction" most people have to salespeople — it's not just agency owners. Secondly, it acknowledges that salespeople have, "for the most part, earned [their] poor reputation…" by talking too much, not listening, and not asking questions. Weinberg follows that up by asking the reader to "think of five words to describe salespeople." (Go ahead, do it right now.) Weinberg bets his readers that not a single thing they come up will be positive. Is he right? No wonder agency owners don't want anything to do with sales!
Why should agency owners care about how salespeople are perceived? One, because selling is a business imperative — even for agencies. Selling is necessary for revenue growth. And two, because it is possible to approach it differently! If you dislike the idea of selling because of how you perceive salespeople and the sales approaches you've been subjected to in the past, this is your chance to do things differently. You can avoid what you hate about sales.
You shape the way your prospects perceive you.
Being thoughtful about selling means knowing what your agency excels at; what you can do better than any other agency. It means knowing which types of clients you can do your best work for, and being able to say no to those who aren't your best fit. A thoughtful approach requires you to see your abilities and opportunities clearly, not through rose-colored glasses tinged with wishful thinking. When you pursue long shots and misfit opportunities, are you showing respect for your prospects? Are you demonstrating knowledge and expertise? That's just the first step.
In his book, Weinberg writes that right alongside our primary objective of what we'd like to accomplish, "it is imperative to ask additional questions to ensure we are not thwarting our own sales effort and encouraging the buyer to resist us."
Here are the questions he suggests asking yourself before you reach out to a prospect:
How will the prospect or customer feel about you and your company following the interaction?

What message are you sending about the experience the prospect will have working with you?

How can you inform the customer that you understand this interaction is not about you?

What can be communicated to demonstrate that you are worthy of their time and you will bring maximum effort and benefit to the prospect?
These simple questions can help set you up for a conversation that goes beyond the typical (reviled) sales call. As Weinberg explains, these questions can help you change the way you are perceived by the prospect.
Compare that to the type of thought process a salesperson might typically have before a call:
Do I have my script, my talking points?

How many more calls do I have on my list? I'll probably just get this guy's voicemail. Not sure if he's even a decision maker. Kind of a waste of my time, but he's on my list, so let's get him checked off.

I know they went with our competitor because they are cheaper, so I don't expect anything has changed, but let's just check in again and see.

No time to do a deep dive on these prospects before I call, need to close a sale!
It should be clear that the two approaches set the stage for two entirely different types of conversations. By taking the time to prepare and be mindful and purposeful about the type of impression you want to make on your prospect, you can break away from negative stereotypes about sales and start building positive relationships for your agency's business.
With that in mind, selling can be done in a way that is palatable both for you and your prospect. You don't have to regard it as a four-letter word. If you must avoid "selling," call it the new way to do new business. Call it whatever you want — as long as you learn to embrace sales.
Read more:
Image credit: © iStockphoto.com / asafta