A while back, I wrote about ways that agencies can upgrade their case studies for improved new business outcomes. The truth is, many agencies need to invest more time if they want their case studies to work for them vs. against them. In this post, I want to take a closer look at how some agencies have presented their work through case studies, with consideration for new business impact.
The three agency sites I'm looking at are Haberman, Digital Surgeons, and SPIR.TO, which are the first agencies I found online with interesting case studies. The goal is to have case studies that go the extra mile to connect creative with business results, through data-backed proof. Compelling case studies should also tell a story and include strong visual elements. The case studies we explore here meet those standards with different degrees of success—but each of them reflects favorably on their agency.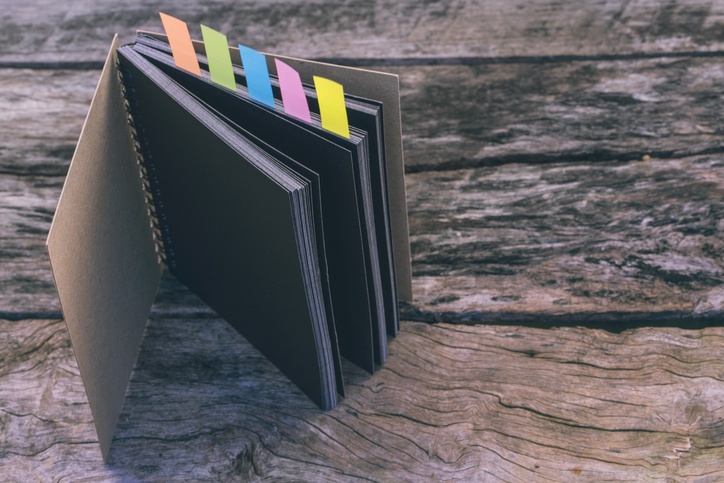 Haberman
Haberman is an agency out of Minneapolis; they position themselves as follows: "We're a full-service creative agency. Storytelling unites everything we do." Here's what I like about their work examples generally, some of which are structured like case studies:
Everything is clean, visually appealing, and easy to digest.
The top of page header for the "Our Work" section reads: "Telling the stories of pioneers making a difference in the world." While it doesn't repeat the agency's overall positioning verbatim, it explains what their agency does in a way that is consistent with the page content (i.e., the work and results they deliver to their clients) while reinforcing the agency's brand and expertise.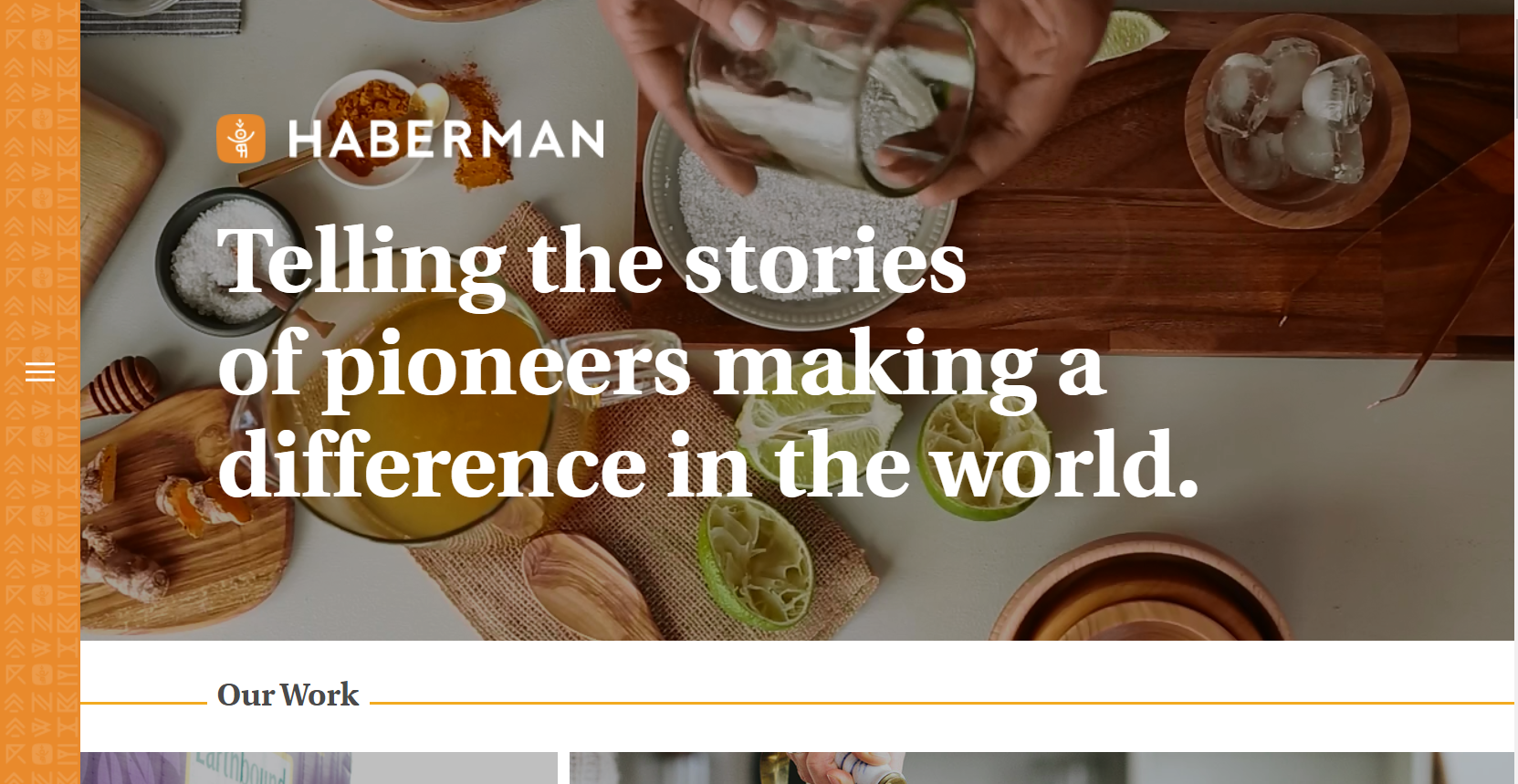 By combining work examples that have demonstrable results with those that don't, Haberman has created a more robust presentation of their work and capabilities. This is how many agencies get more mileage out of work for which they can't obtain sufficient data on results. (However, that's not to say performance data should be regarded as optional. Results sell and it should be your goal to include them every time.)
The way Haberman has organized their work examples supports their overarching agency positioning. Each page of work for each of their clients tells a visual story of how they helped the client achieve their goals. In combination, all of these work examples show that Haberman excels at creating stories, perfectly supporting their agency positioning.
One of Haberman's work examples comes from Annie's: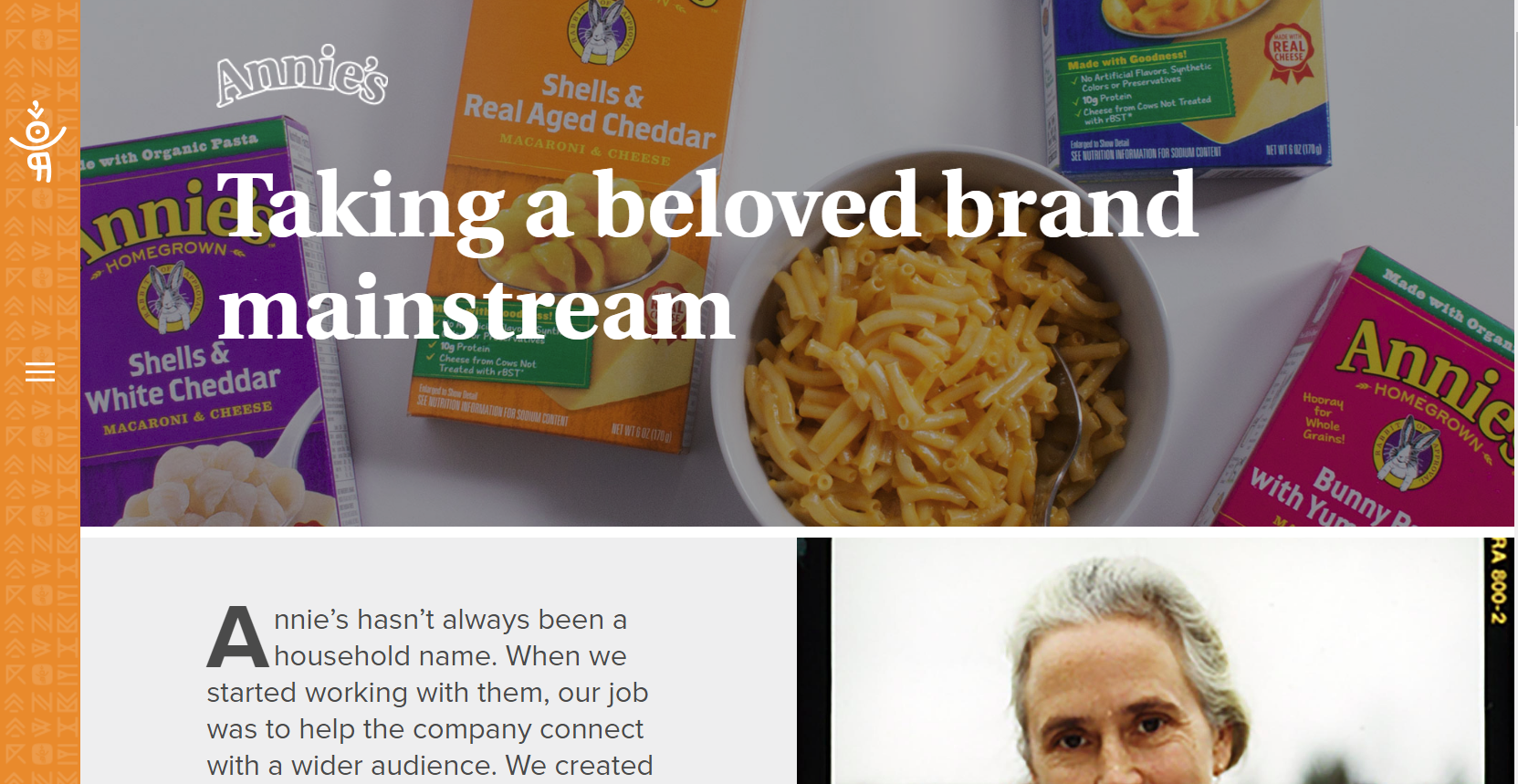 What's good about it:
Features compelling visuals and video
Easy to read and the text is minimal; only enough to explain the story they've laid out in images and video
What could be improved:
Their results ("PR campaign generated millions of gross media impressions,") could be more directly tied to the outcome of those impressions. What do those impressions mean for Annie's in business terms?
Another stated outcome ("With Root 4 Kids, we got nearly half a million kids digging and planting fresh vegetables,") clearly supports what Annie's is about and reflects well on their brand, but also fails to connect with tangible business outcomes.
It would be stronger if they included a statement or video from someone at Annie's who could address the experience of working with Haberman.
Another of Haberman's work examples comes from Traditional Medicinals: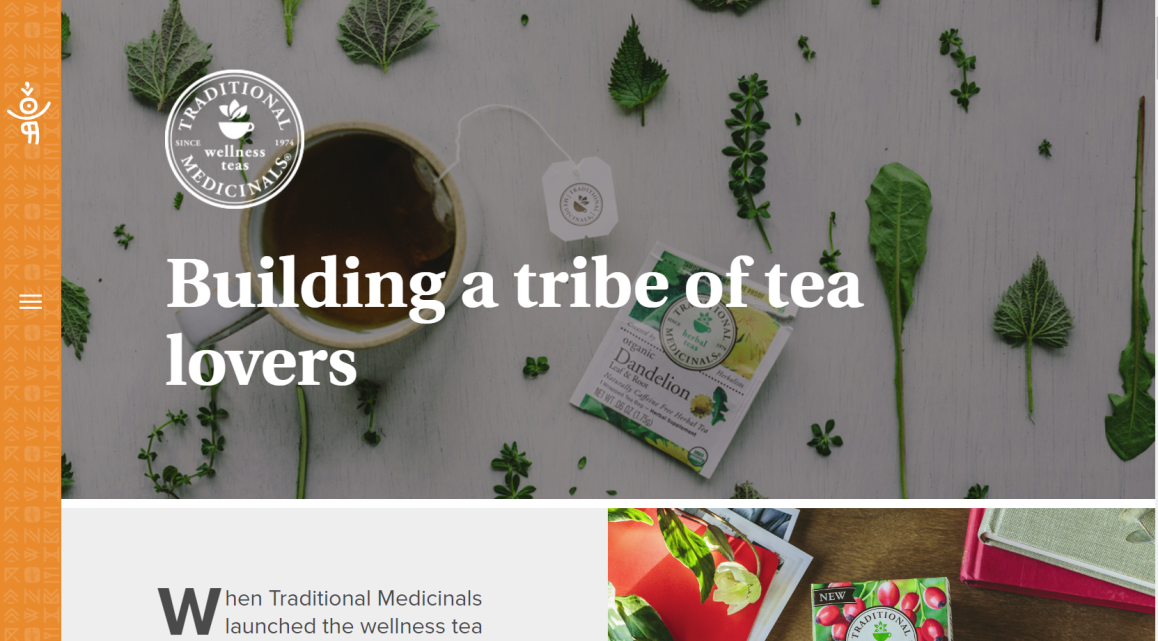 What's good about it:
As with Haberman's other work examples, the Traditional Medicinals page is visually rich, with images taking center stage over the text, which plays a supporting role.
As storytelling goes, this does a wonderful job of showing and telling what they did and why, and how their work helped Traditional Medicinals reach their goals.
Though they still don't connect the campaign to business results as directly as we might like, they get good mileage from the results they do have available:
- "Since we began working together, the brand's digital fan base has grown 160%."
- "More than 1.5 million engaged followers—one of the top organic/natural product brands in terms of online fans."
- "13% increase in aided brand awareness."

What could be improved?
While it seems the campaign goals were primarily to boost brand awareness, it should still be possible to take measurement a step further and gauge how this increased awareness translated to sales and the brand's bottom line.
There is no representation of the client's voice. How did Traditional Medicinals' team feel about working with Haberman over the course of this project? Were they happy with the results?
Digital Surgeons
Digital Surgeons position themselves as follows: "We're Digital Surgeons, a connected experience design company. We exist for one reason – to drive growth and positive outcomes for your business." Their slogan is "We Design Demand.™ " There are several great examples of case studies on their website, which make newer concepts tangible and show potential clients exactly how they can help.
One of their case studies features Camelbak: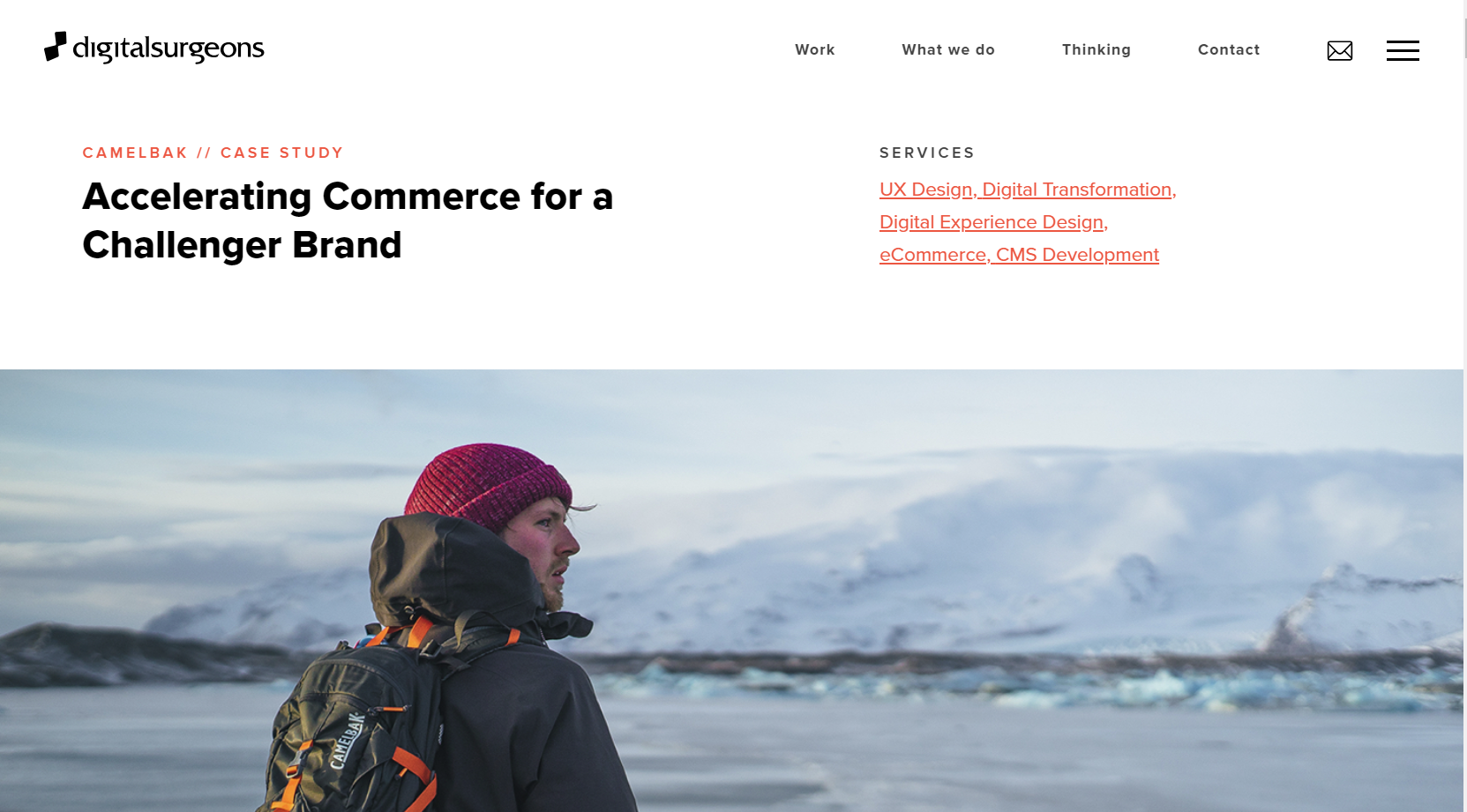 What's good about it:
Digital Surgeons have categorized their case studies by services, so when you are in the CamelBak case study, you can easily see which services they executed for this client, and click through to view other related work in the same category.
Their performance metrics include data that illustrate bottom-line impact. For example, "17% increase in average order value."
It includes a link to an award they won for this work.
There is a form near the bottom of the page for prospect queries to discuss how Digital Surgeons can "design demand" for their business.
There are links provided to other related case studies, making it easy for prospects to get the information they need.
This case study, like their others, is consistent with their brand positioning and exemplifies what they say they do.
What could be improved:
It would be stronger if it included a quote from someone at CamelBak who worked with them on the project.
Another of Digital Surgeons' case studies is for Sperry: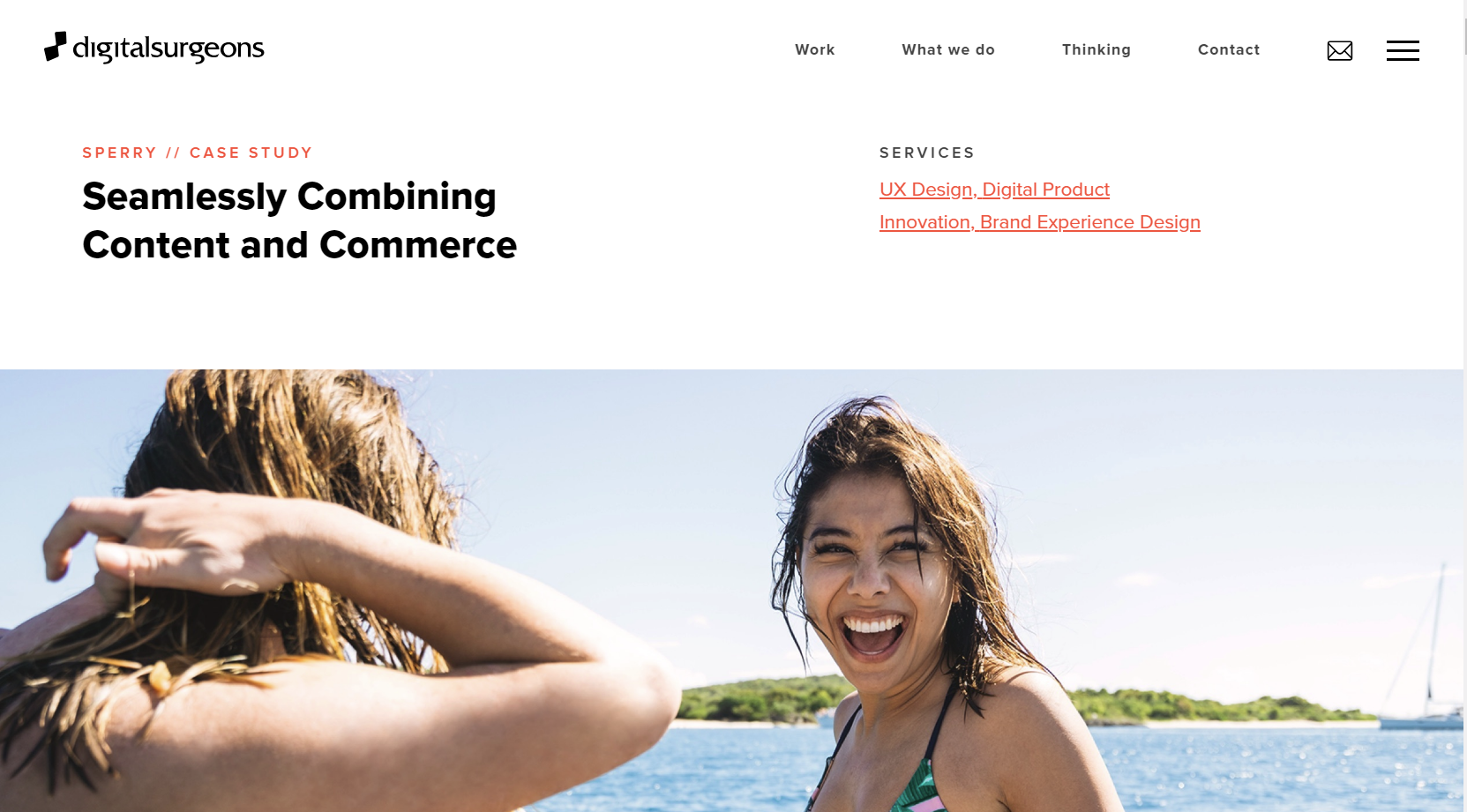 What's good about it:
The challenge and process are clearly stated and illustrated with visual examples.
Both back-end and front-end processes are clearly explained in a way that is accessible to anyone, not just martech professionals.
This case study does feature a quote from someone on Sperry's marketing team, speaking to their experience working with Digital Surgeons.
What could be improved:
The outcome states there was "a massive increase in sales conversions over the first 3 months," but there are no specifics given. In fact, specific performance data and metrics appear to be the only real weakness in this case study.
SPIR.TO
Spir.to describes themselves as an "internationally active, award winning branding agency, set to save the world through design and visual narratives." Their website states they are "Creating value for brands and their audiences." The examples of their work feature clients around the world.
Sortable by categories (brand identity, packaging design, environmental design, and digital applications) each of their work examples supports their position as experts in branding and design. They include three case studies, followed by many work examples that show their design work, briefly describing what they did on the project and why. Some, like this one for Family Farm, include awards they've won for that work.
One of Spir.to's case studies is for Morea Elea: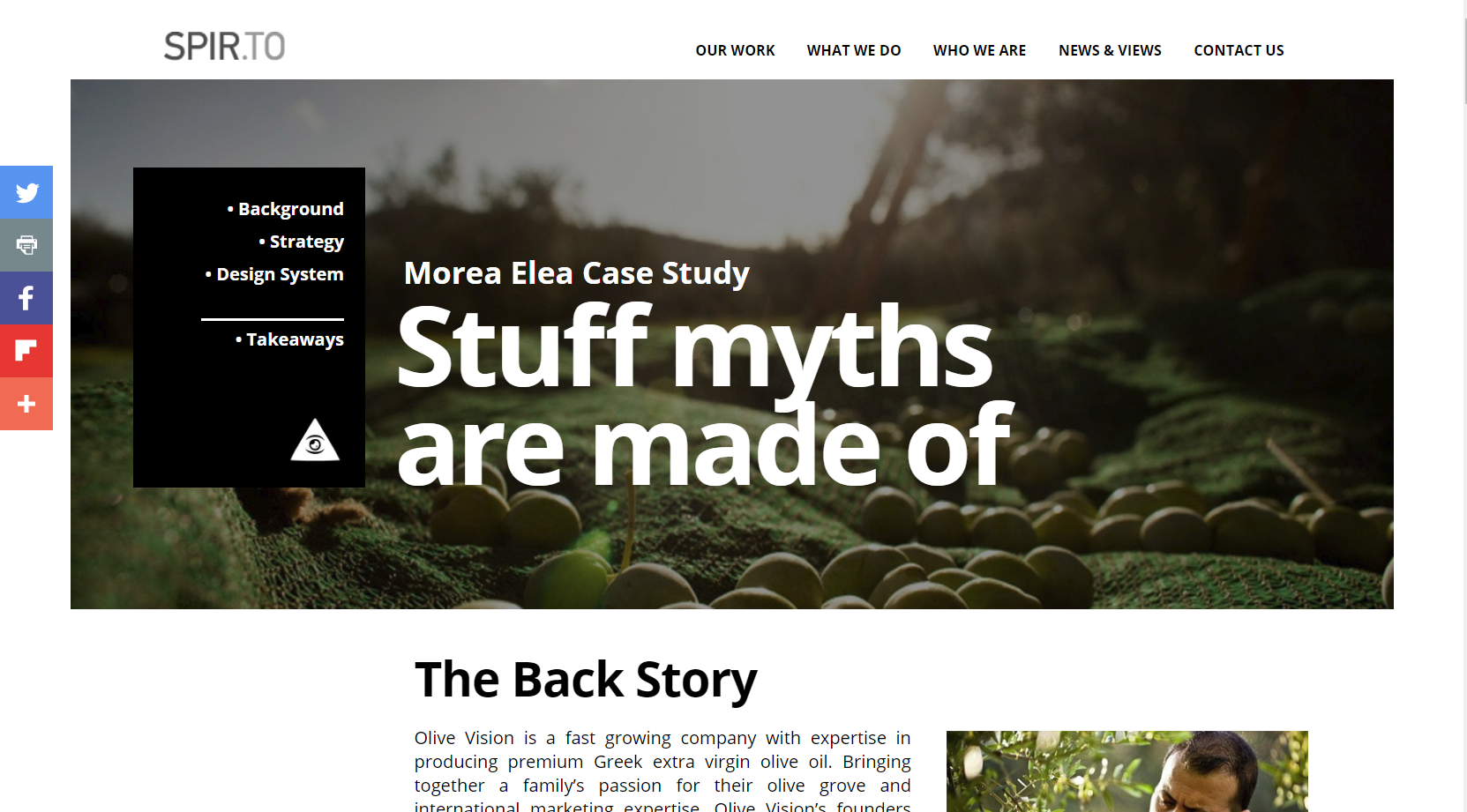 What's good about it:
It features a floating module with clickable links to jump quickly to the background, strategy, design system, and takeaways sections of the case study.
The challenge and strategy are described effectively and concisely.
Pictures convey the elegance of the branding and packaging design.
They included awards that the olive oil has won both for packaging design and olive oil quality.
The end of the case study includes a "wrapping it up" statement from Spir.to's creative director, which supports his expertise and provides a personal touch.
What could be improved:
The awards listed are for 2013; has the olive oil not won awards since then? Does the case study need to be updated, or should the year simply be removed at this point so it doesn't date the work unnecessarily?
There are no performance metrics or data to illustrate the bottom line impact of this campaign, which would help make the case for effectiveness.
There is no statement or quote from anyone on the Moria Elea side, which could help make Spir.to look like an agency that you want to work with.
Takeaways
In closing, each of these examples offers strong visual testimony to why a prospect might want to work with these agencies. They are generally strong on the storytelling aspect as well. Most of them do well in terms of categorizing across themes and linking to other relevant sources: awards, case studies, work examples, blogs, etc. The case studies and examples of work we explored here also do a good job of supporting the agencies' overall positioning and areas of expertise; there is a general consistency between their "about" and their "what" (a.k.a. their work).
Where most of these examples fall short continues to be in two main areas: performance data and metrics that illustrate the bottom line business impact, and quotes from clients. Both of those can be improved by making them part of your agency's repeatable processes. Access to performance data and permission to share work via case studies should be tackled at the beginning of a relationship, in the contract.
Each time you complete a project, you should send exit surveys to clients so that you know how pleased they are with the work, and have the opportunity to get a statement from them, which you might be able to incorporate into a future case study. If exit surveys are provided to multiple client-side team members, you could potentially get multiple quotes from multiple perspectives. Those client statements go a long way to make new prospects confident that they can trust your agency with their business.
Want more information on upgrading your agency case studies? Here are some best bets:
Find out if outsourcing is a good option for you to grow agency new business:
Image credit: ©iStockphoto.com/small smiles