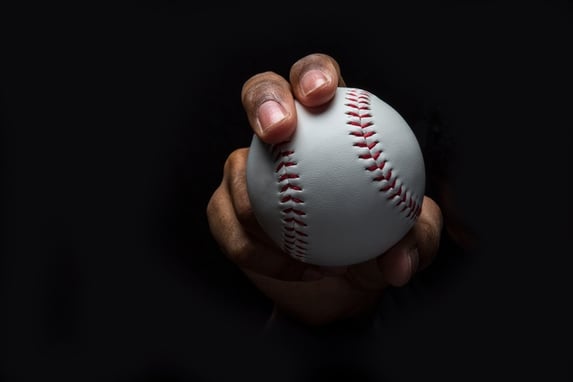 Editor's note: This is the third post from our interview with Ken Robinson, a co-founder of Ark Advisors, the nation's #1 ranked expert in helping marketers and procurement executives source agencies (creative, media, digital, direct, PR, SEM, etc.). Ken has worked on all sides of the industry — as agency CMO, as a marketing decision-maker on the client side, and now as an agency search consultant — so he knows what it's like to be in a pitch from all seats at the table. Read the first two posts from our interview with Ken here and here.
Mark: Speaking of mistakes made in pitches, do you think it's a factor of not having been in the room often enough? I'm reminded of the saying, "Act as if you've been there before." What are some common mistakes made by the smaller or mid-size agencies who maybe don't have a lot of exposure to consultant-led searches?
Ken: I think smaller agencies often focus a little too much on their process. So, for example, they will say, "first we start with discovery and understanding your business, and then we speak to the stakeholders in your organization, and then we start to develop a strategic plan..." I think that some agencies believe that their "a-ha" moments are on the process slides, not realizing that every agency is presenting basically the same process. This is the cost of entry. So, the fact that you trademark your "proprietary" process is not typically a compelling proposition for a client.
Mark: What else might they do that isn't as impactful as they may think?
Ken: Talking about how much they all "like" each other within the agency. Clients can tell when a team has good internal chemistry.
Single star vs. an all-star roster
Ken: I think that smaller agencies can (mistakenly) rely too heavily on either the owner/founder or the chief creative officer. Failing to recognize that prospective clients are looking to hire and work with a team. Often these agencies will have one person do all of the talking in a pitch, and that's usually the person whose name is on the door because they're the draws in their region or their state.
So they're used to being the star, and I think that once you work at a national level, it's important for clients to have confidence in every member of the team. Everybody needs to have a role in the presentation; everybody needs to speak, everybody needs to be smart. And I think agencies that are less experienced in pitching often will have one person dominate the entire conversation, to their detriment.
Perceiving and presenting your smaller agency
Mark: Do you find that sometimes smaller regional agencies are almost apologetic? They may not be in a major market so they start talking about how perhaps some of their team is from larger markets and they chose to be where they are now? I've seen that before, and I find it almost apologetic.
Ken: I think you're right. We're encouraging our clients to travel for talent and to ease up on arbitrary geographic restrictions. So agencies are advised to be proud of the market they're in.
However, be aware that the work done for your city's Tourism and Convention Bureau, or the regional hospital system, or the local theater company, while perhaps well known in that state, may not be familiar to clients outside of those markets.
Regarding size, we have had agencies of 12 people win pitches against agencies of a hundred people because the agency's work and relevant experience was tailor-made to satisfy the needs of a specific client. So, it's not always about the size of the agencies. Rather, it's about the quality of a specific talent that will be put against the business.
When the agency owner sucks at presenting, or the client just doesn't like them
Mark: I'm thinking about small agencies, because not only is the one voice a problem but also if a CEO wants to take the lead and maybe he or she really sucks at presenting, how do you tell them that?
Ken: I think that if you are the leader of an organization — either the owner, founder, or you are the head of a particular department — and you can't present, you must take presenting lessons. Because people will say, "Who should be presenting—should it be the people who work on the business, or the people who are the best presenters?" And it should be the same people. You should not rise to a level of a senior leadership within an organization if you don't have pitching skills and can't speak confidently in a room.
How do you say to an agency, "You can't have your CEO in the room because he talks too much or is too blustery?" We'll say to the agencies, very honestly, "Do not have this person as part of the pitch team because we know the client team and culture." Agencies generally appreciate that candor and direction, because they want to win the account and know that one person in the room with the wrong chemistry can eliminate an entire agency.
Now, we also say to the client, "Look, if you don't like this strategy person, the agency will swap them out with another from the department." If you're a small agency of 12 people, you don't really have that luxury. But if it is a larger agency, they can swap for another person or team, and we've had agencies do this. We'll say, "They like everybody except this particular person, so, can you find somebody else to fill those shoes?" And that's part of our value, not letting one person kill an entire agency; at any stage of the process, a team member can be replaced. The agency will be thrilled to do that. They'd rather do that than lose the business.
On passing off work from other offices and prior agencies
Mark: Talk to me about when agencies try to sneak in work that's not done by their agency but was done by their personnel at a previous agency? For example, the creative director is showing Heineken work although the agency has no relationship with Heineken, but the creative director used to work on Heineken 18 months ago for another agency?
Ken: Part of our job is to make sure that there is no obfuscation of where work was produced, and whether the people who produced the work ares still even working at the agency. We've seen agencies in New York present work that was developed by their Los Angeles office and passing it off as "agency work." Part of our job is to say, "Excuse me, client, we just want you to know that the work that you just saw—which you love— is not managed out of this office. There was nobody who worked on that campaign that will work on your account."
On the other hand, if you are the chief creative officer of an agency that you joined three months ago from another agency where you were chief creative officer or executive creative director, you can legitimately show that work when you clearly present it as, "When I was at agency X, these are the campaigns that I led."
That is a fair thing to do because you're being honest and transparent and forthright. People don't start their careers the minute they start in a new agency. They have a career path, and experience, and successes that they can legitimately talk about and present to the room as long as it is really clear.
I know who has Heineken. I know who has which accounts. So, when we see them on the reel we know well enough to say, "This is not a client of your agency," and then they will respond. But again that's our job, to make sure that the clients aren't being misled.
Stay tuned for our final post from this interview, which will address factors that decide a pitch (aside from creative).
Subscribe for more insider insights:
You may also be interested in:

Image credit: iStock.com / EJGrubbs