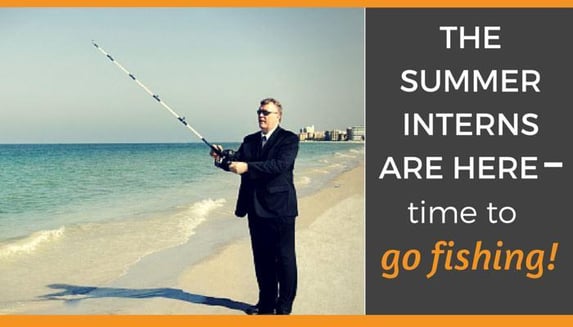 With summer upon us, our minds tend to wander from the office to afternoons at the beach and other summer activities—and our feet are quick to follow. We tell ourselves things like, "No one works on Friday afternoons over long holiday weekends." Then, after the holiday weekends, we find new excuses, like, "This is peak vacation time anyway."
Along with summer comes the summer interns, chosen because of their strong academic records, or the good fortune of having well-connected parents, or perhaps both. However they get there, most are excited to apply their education and acquire new knowledge and experience, hopefully (for them) while getting paid.
Agency summer interns, like all interns, are often tasked with jobs that no one else wants or which have been pushed off due to time constraints. One of these jobs should not be new business.
A friend of mine, who is the head of marketing for a mid-sized healthcare company, recently received an outreach email from a small agency. He receives many such emails over the course of every month, but this one stood out, and he felt compelled to share it with me. It had all the usual agency claims, with the term "marketing" liberally sprinkled at least half a dozen times in the email copy in an attempt to "speak his language."
What stuck out to my friend, though, was the sender's intro and auto-signature. They had introduced themselves as the "marketing intern." I immediately thought of a former sales manager who often said, "Generals speak to Generals." The fact that the marketing intern was introducing his agency to this company's head of marketing was a major mistake.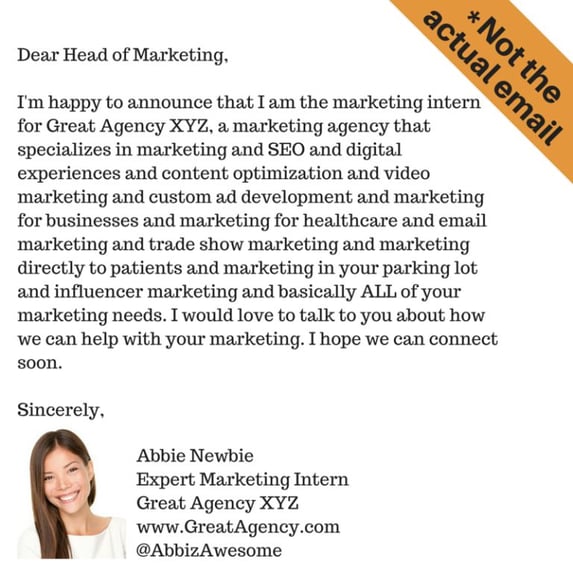 Agencies need to be careful about how they present themselves to prospective clients. Case in point, I asked this marketing director if he would ever consider this agency as a prospective partner. He works with multiple agencies and often will take a call with an agency that does their homework and approaches him in a professional and compelling manner. In this case, his answer was no, for a couple of reasons.
First, their approach was lacking a specific direction and focus.
The email presented so many different offerings that the marketing director immediately dismissed it. Curious, I went to their website and counted 14 different services they claimed to provide. How can you help a company with marketing when you aren't doing a good job of differentiating your agency?
Second, he did have an issue that the marketing intern was approaching him; remember, Generals speak to Generals.
The approach was sloppy and undifferentiated which left him uninspired to learn anything about the agency. I noticed on their site that this agency had both a new business director and a marketing director, so the idea that a rogue summer intern was trying to score some points is highly unlikely. Someone apparently tasked the intern with new business outreach and approved intern-to-General communications.
It's as if they thought, "Let's keep this intern busy and have them go fishing, sending out as many emails as they can, and let's see what or who they catch!"
I suspect they are not alone. Many agency owners look at new business as a tonnage play.
This is not the recipe for new business:
Send out a bunch of emails and see who answers.
Have no strategy on who to send to and no strategy on follow-up.
In this case, the owners did their agency a huge disservice, leaving a first impression that is far from impressive—and impossible to reverse. It's trite but true; you never get a second chance to make a first impression.
New business outreach is the first impression you give of your agency. There are many productive tasks summer interns are well suited for, but leading your charge for new business isn't one of them.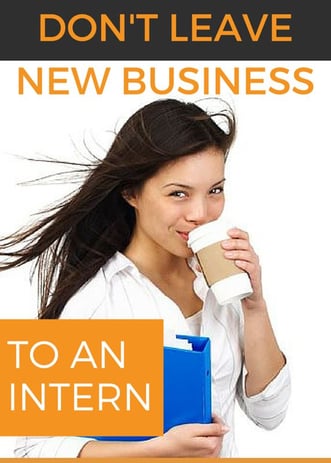 New business is the lifeblood of any agency. It needs to be approached in a strategic and professional manner. When you have a summer intern mindlessly send out emails, it doesn't just reflect poorly on the intern, who probably worked very hard to craft a grammatically correct email. It's a reflection on the agency's strategic approach to business. And the intern can't be blamed for not differentiating your agency if you haven't already done so.
So before you kick up your feet and let summer-itis eat away at a quarter of the year, think again. Don't relax so much. Don't assume your prospects are out of office. Don't dump new business outreach on your summer intern. Don't let yourself off the hook for the months of July and August. In fact, summer may be the perfect time to connect with the prospects you need to build future business. And, depending on the state of your agency positioning, you may have some work to do.
Read more seasonal productivity tips for agency new business:
The Duval Partnership helps agencies develop new business programs. See how we helped this NYC-based agency:
Image credits: © wayneandrose / 123RF Stock Photo; © maridav / 123RF Stock Photo; © maridav / 123RF Stock Photo; all modified by cropping and text overlay.