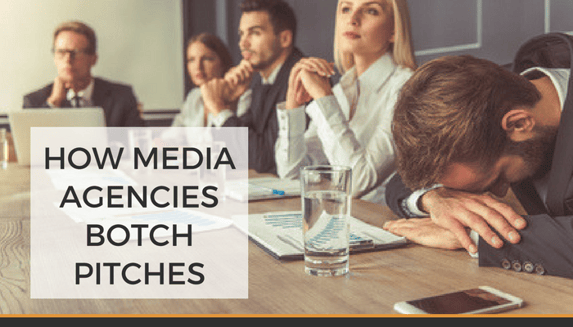 We recently had the opportunity to interview Ken Robinson, a co-founder of Ark Advisors, the nation's #1 ranked expert in helping marketers and procurement executives source agencies (creative, media, digital, direct, PR, SEM, etc.). Having worked on all sides of the industry — as agency CMO, as a marketing decision-maker on the client side, and now as an agency search consultant, Ken knows what it's like to be in a pitch from all seats at the table. Needless to say, he's a wealth of knowledge on the agency pitch.
We were able to get a lot of useful insights from Ken that will be helpful for both agency owners and brand executives, and we'll be sharing some of those in a series of upcoming blog posts. Today, though, we're going to kick it off with a focus on media agency pitches.
When we asked Ken about any impressive or disappointing trends he's seeing with the way agencies are pitching clients, without hesitation, he said, "Can we talk about media pitches?"
If you own a media agency, you'll want to pay attention to what he said next:
"I think what is disappointing in the past 18 months, I would say, is media agencies that are so hyper-focused on their data, analytics, and programmatic capabilities — they are so focused on their ability to provide efficiency in buying — that they have lost the thread of creativity in media.
There are so many scientists running these meetings that the artists have no place… We did a media pitch last year where the clients said, 'Our company wins creative awards every year for the campaigns we run, but we never win media awards.' And so when we did the pitch, the client said, 'I want an agency that can be really exciting and innovative with media, not just inexpensive and programmatically perfect.'
I think that there is a lot of opportunity for media agencies to differentiate themselves creatively because you get to a certain threshold with pricing, and it ends up being parity. Whether it's pricing of the commission that they're commanding for the buying or the pricing of individual spots. So you really get to a point where everyone is fighting to get to the bottom of low prices, rather than differentiating based upon creative."
Tip: If you commoditize your offering and are differentiating your agency by price, you are helping clients think of your services in terms of dollars and cents and pushing them in the direction of whichever agency is the cheapest. That creates a no-win situation.
So then we asked Ken whether he thought media agencies had less creative talent, or if they were just underperforming creatively in the pitch?
His response: "I think that media agencies are not merchandising themselves appropriately. They have the creative talents in the agency. They may have the creative talents in the [pitch] room. I think they think their clients are really only interested in talking about the technology and the efficiencies. When, in fact, most clients consider that the cost of entry to be participating in the search. So [for media agencies], how do you differentiate yourself in other ways? And that those ways should be creative uses of media, not just efficient uses of media."
Media agencies, read that again, because it just may save you a lost pitch!
That is not just a positioning issue, but also a communication issue. When you are going into a pitch, you better know what the client wants! Survey after survey has illustrated the gap between agency and client perceptions, and much of it comes down to simple communication. Check your assumptions, or it could cost you.
Curious about the story Ken shared, I did a quick Google search to do a pulse-check on media agency positioning. Here's some key positioning terminology from just the top few agencies that popped up:
ROI

evidence

objective

profitable

data

technology

ideas

insight

optimize

actionable

purchase

buying

results

opportunities

transparency

reach the people

mobile revolution

real insights (not just numbers)

media planning

continually optimized

media analytics

next generation

media buying

capture emotion

enable great creative

connected, valuable human experiences

create strong one-to-one connections
It's a mixed bag out there. Some media agencies aren't even bothering to connect what they do to creative or consumers. Then again, I also found one "top media agency" (according to the Google search results) whose site was so creative, I couldn't even figure out what they did (too much, guys, too much). Another media agency site succeeded in showcasing their creative front and center in a sensible, user-friendly manner. Some clearly get it, some don't. Which group does your agency fall in?
It's always a good idea to keep tabs on how other agencies in your space are differentiating themselves and visit other agency websites to see what's working and what isn't (selling on low price isn't). Most importantly, if you are going to pitch, make sure you understand what the brand is looking for — it may not be what you think!
Thanks again to Ken Robinson at Ark Advisors for sharing his valuable insights with us. We'll be sharing more of his insights in future posts, so stay tuned!
Have you subscribed yet?
Read more:
Image credit: © vadimgozhda / 123RF Stock Photo; modified by resizing and text overlay