As fall approaches, it is time to review your sales efforts and performance. If you have a written plan and adhere to a structured program, you should find yourself well positioned to meet and exceed your sales goals. If not, the end of summer can be a dreaded time. If you are behind where you should be with your sales goals, you have probably noticed that there are only a few short months (!) before we head into the holidays.
If you fall into the latter group, now is the time to change your behaviors and attitudes, and start sprinting to the year-end finish line. Here's how to do it.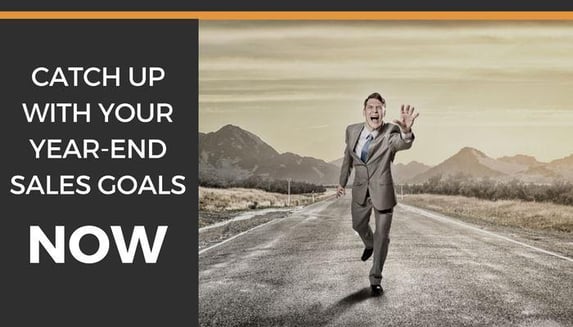 Assess & Reset
Spend some time reviewing your 2016 goals and plans and determine whether you are still on track to meet them. There is still time to change what you are doing, but the window is closing.
Assess your pipeline and YTD sales against your annual goals.
Considering factors such as your average sales cycle and your chance of closing qualified opportunities, are you on track to meet your annual sales goals?
Where are you falling short? How many more activities do you need to do to make up for that and get back on track?
What do you need to do in the next 30-60 days to get where you need to be?
What opportunities do you need to focus on in the next 30-60 days to get them to close before year-end?
Which prospects, customers, and activities are eating up too much of your time? Will they generate enough revenue to make your time worthwhile? Can you dial back on these significantly to become more productive?
Your Last Ditch 90-Day Plan
If you are falling short of your goals, you need a roadmap to guide you. Create a 90-day plan to get back on track. Here are some things it should include:
Self-Accountability
If you don't have someone to hold you accountable to your sales goals, you will have to do it yourself. Write down the number of contacts (calls, emails, LinkedIn connections, etc.) you need to make each day to hit your weekly targets. Keep your plan visible and refer to it every day to stay on target. Set your goals in stone by sharing them with a coworker or boss so you aren't tempted to lower your bar.
Qualification Refinement
Revisit your sales qualification process. If you want to meet your annual goals, you can't afford to waste time chasing the wrong accounts. Disqualify whoever is not a genuine prospect as soon as you can. Use these tips to eliminate unqualified prospects and spend more time building relationships with the people whose business you want and are able to close. Doing this one thing will have a major impact on your ability to meet your year-end agency sales goals.
Double Down on Referrals
If you are like most agencies, you probably already seek client referrals periodically. But you may wait until your feet are held to the fire, missing valuable opportunities. Make referral requests part of your regular sales process. Create reusable templates. Integrate referral requests into quarterly account reviews, after contract renewals, or following a major success — whenever you can build off of a client's satisfaction with your work. Whatever you do, make your requests for referrals timely, easy, and pressure-free.
Performance Tips for a Strong Year-End
While your list of 2016 goals may seem insurmountable at this late stage in the year, it is important to stay focused and follow a daily regimen. It could mean the difference between having a solid year and having a complete washout—and time to start tightening up the resume. Here are a few performance tips that will help you correct your course.
Use Daily Rituals & Routines
Once something becomes a habit, it's harder to stray from. Use this to your advantage. One of these daily routines should include preparing a to-do list. To-do lists are a great way to train your brain to stay focused and manage your time. Plan your goals by organizing your tasks into categories and then identifying what you need to do today, tomorrow, for the week, and for the month. Crossing off all of your daily tasks can also give you a sense of accomplishment, making the routine easier to repeat the next day.
Back to Basics
If you are falling short of your targets, go back to basics. The shortest path to close often comes from additional work from current clients or "warm" leads.
Worst Things First
To stay on track to meet your goals, tackle the tasks that you don't like first. Check off the items that you find most difficult or tedious from your list before moving on to other tasks. When those dreaded tasks are finished and behind you, it puts you in a much more positive frame of mind and makes the remaining tasks feel like a breeze in comparison.
Stop Multitasking
All studies show that multitasking makes you less efficient and decreases your quality of work. When you focus your brain on a single task, you'll be much more efficient, and the quality of your work product will soar. Sticking to one task at a time pays off tremendous dividends in the long run.
These sales performance tips will help you become more disciplined and strategically focused, and will keep you on track.
There are many contributing factors to closing new business — some of which agency salespeople have no control over. Don't give in to excuses and discouraging self-talk about why you can't reach your goals. Instead, adjust what you are doing and stay laser-focused on what you need to do. If you start sprinting now, you have every chance to catch up with your targets for the year-end.
Need some extra help to dig out of a sales slump? Explore outsourcing:
Read more about meeting your agency sales goals:
Image credit: © nexusplexus / 123RF Stock Photo; modified by cropping, resizing, filter, and text overlay.
This article was originally published on LinkedIn Pulse by Mark Duval on September 1, 2016.