Throughout your agency's new business process, there are many ways that automation can be used to improve your performance.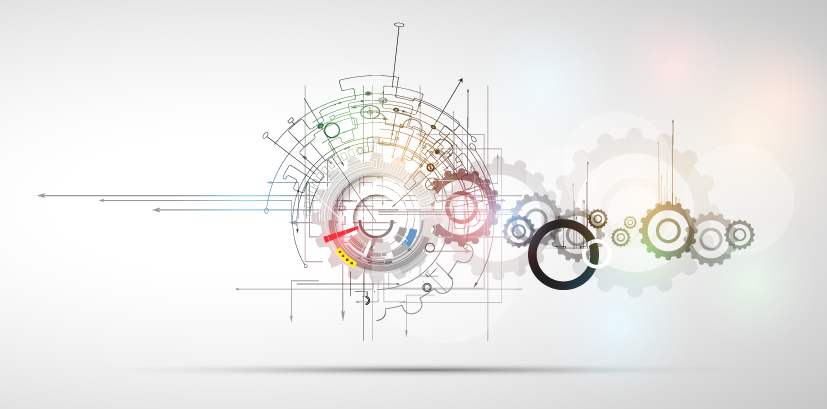 Last week, I wrote about strengthening client-agency relationships across the client lifecycle. All of the client lifecycle stages touch agency new business, whether indirectly or directly. In this post, I'm going to break these stages down further by listing some of their components in sequential order — from prospecting to separation — and thinking about the various places where automation tools can play a supporting role. The tools I've included here are primarily relevant to agency new business processes, but also support client-agency relationships in general.
Mapping Automation Tools to the Client-Agency Lifecycle
Prospecting
Lead generation
Lead scoring and initial qualification
Calendar automation and meeting scheduling
Sharing sales and marketing assets
Sales quotes, contracts, proposals, and RFPs
Lead Nurturing
Providing targeted, relevant, logic-based information at regular intervals
Onboarding
Drawing on customizable, reusable templates and defined processes
Setting up expectations and mechanisms for project communication
Organizing roles, tools, teams, and project parameters
Account Management
Ongoing communication
Project updates
Reporting
Follow-ups and reminders
Invoicing
Tracking client satisfaction
Referral requests
Up-selling, cross-selling, follow-on, and additional business
Relationship nurturing
Separation
Relationship and account assessment
Building / creating future potential opportunities
Ongoing communication and nurturing (as appropriate)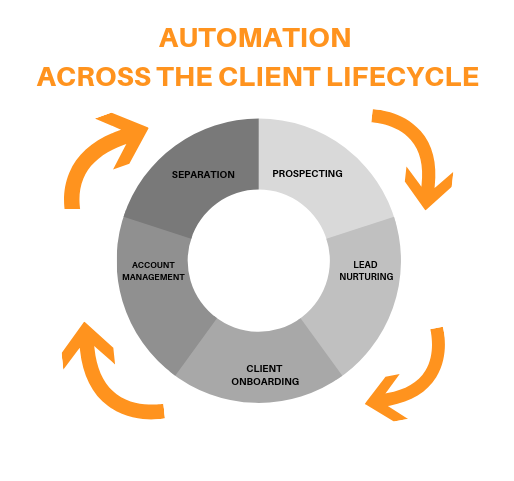 Automation Tools For Prospecting
There are a few types of automation tools that are well-suited to support agency new business at the prospecting stage. These include to-do list apps for lead generation reminders, automation for lead scoring and initial qualification, automated calendar and scheduling tools, and tools to generate sales quotes, contracts, proposals, and RFPs.
To-Do List Apps
To-do list apps can be useful for prospecting as well as project and account management. Depending on the tools you are using, it is possible to use Zapier to automate your to-do app and integrate it with your workflow (including project management tools), which can be a time-saver. Some to-do list apps are organized in detailed lists (such as Todoist, Toodledo, and Nozbe), while others are organized more graphically (like Trello, MeisterTask and Week Plan). Read more about what you can do with to-do list apps.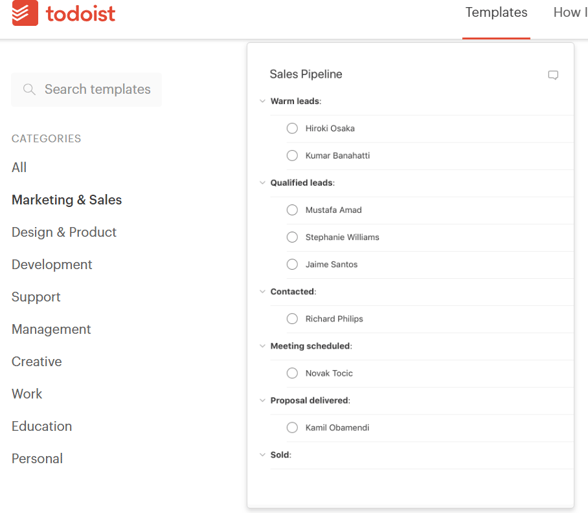 Screenshot of todoist sales pipeline template
Lead Scoring and Initial Qualifications
Automated lead scoring can help you prioritize your best prospects and disqualify others. While it may not entirely replace manual review, it can still save you valuable time. You can use lead scoring (through marketing automation platforms like Hubspot) to measure a lead's engagement, characteristics, behavior, responses, and interactions. For example, you might disqualify leads located outside of the United States, or assign more points to repeat visitors and leads who have clicked multiple email links and viewed agency case studies and service pages.
Can you automate your agency's qualification process? There are examples of creative firms that have made it work for them. It's worth considering how and if it could work for your agency, perhaps by including a couple of key qualification questions on a form, or perhaps by using it only for some of your product and service offerings.
Before automating your qualification process, it's important to consider the nature of your business and the experience you want to provide to potential clients — as well as the cost-benefit on your end. If you are closing multi-million dollar accounts, it's fair for clients to expect a human interaction and conversation-based qualification process rather than an automated, self-serve form. Additionally, personal qualification is an opportunity for your agency to use strategic questioning to learn valuable information about the prospect, which may not be desirable to give up.
Calendar Automation & Meeting Scheduling
Odds are, you use at least one popular calendar tool such as iCal, Outlook, or Google Calendar. However, if you aren't using an automated scheduler app with it, you may be missing an opportunity to simplify your life and make yourself more available to prospective clients.
Most meeting scheduler apps connect to your online calendar to identify when you're free for meetings and send invitations to coordinate times that are best for others. Many scheduling apps also add new appointments to your calendar automatically. Meeting scheduler apps include Boomerang Calendar, Calendly, Doodle, and FreeBusy. Learn more about meeting scheduler apps from Zapier here and here).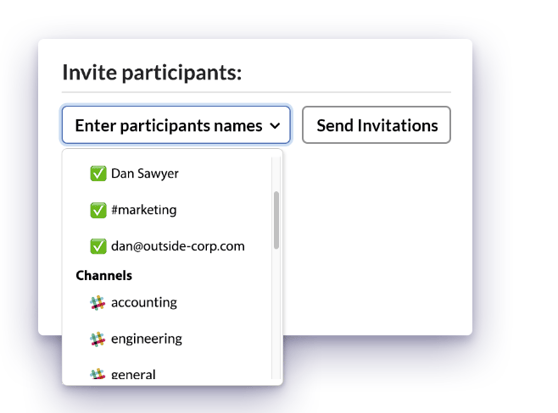 Screenshot of Doodle's Slack-integrated meeting poll invite
Sales Contracts, Proposals, Quotes, and RFPs
Though it's critical to customize each RFP and proposal to the opportunity, you can still save time and make a better impression by using a sales document tool. Quilr, for example, provides well-designed, reusable, webpage-based proposals that include video, full-screen images, interactive pricing calculators, spreadsheets, Calendly calendars and more. Other options include PandaDoc, BidSketch, Proposify, Better Proposals, Nusii, ClientSky, and Proposable. RFP automation providers include RFPIO, Proposal Software, and Loopio.
Some proposal software providers (like Practice Ignition) include other features like account management, billing, and payments, which may be a compelling option for some agencies. Read more about proposal software options for agencies from Sakas & Company.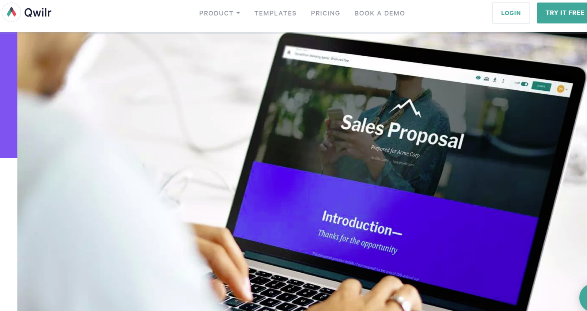 Screenshot of one of Qwilr's sales proposal templates
Automation Tools For Lead Nurturing
Automated processes such as email drip campaigns and logic-based workflows can be used to support lead nurturing, as well as relationship nurturing at later stages in the client lifecycle. Based on what the contact has shown interest in and what they have viewed, you can send them additional relevant information periodically through an automated drip campaign. Marketing automation and email drip solutions include Hubspot, MailChimp, Vero, Aweber, Get Response, and Active Campaign.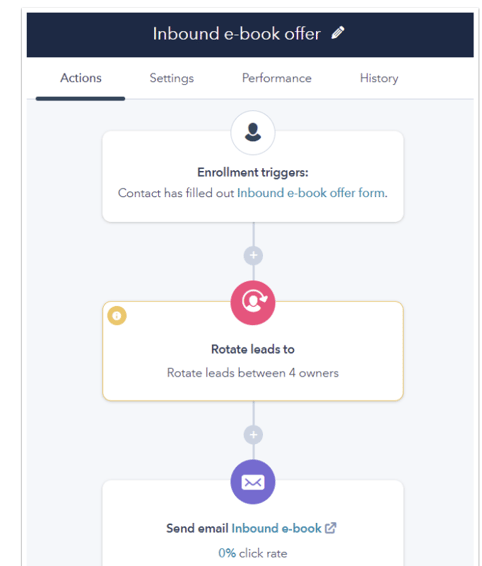 Screenshot of a simple Hubspot email workflow
Another way to automate some of the legwork in the lead nurturing process is to set up automated notifications of news related to the prospect or client account through a Google Alert.
Automation Tools For Onboarding
It's been suggested that client onboarding can be done via an automated email drip campaign, but for most of the agencies we work with, this wouldn't be appropriate. At a time when client-agency relationships demand extra attention, conducting onboarding by automated email rather than in person would be a missed opportunity. However, there may be some smaller services or products within your agency for which this application would be appropriate, so that may be something to consider.
During the onboarding stage, the most important automation tool for agencies will be a project management application, which you will use to organize the account, the projects, and related communication with the client.
Project Management
Managing client accounts and projects is easier when you can view them all in one place. Project management tools help facilitate that, allowing you to view project-level, account-level, and universal overviews for all projects and accounts at a given time. Combined with regular agency team check-ins, the right project management software can make a huge difference in your agency's performance, communication, and delivery.
TIP: It may also be possible to use your agency's project management capabilities as a tool to help sell your agency. Steve James, a partner at Stream Creative describes how his agency introduces prospects to Basecamp "early in the sales process," which lets them know how his agency approaches communication over the course of a campaign and also enables an easy transition during onboarding (Databox).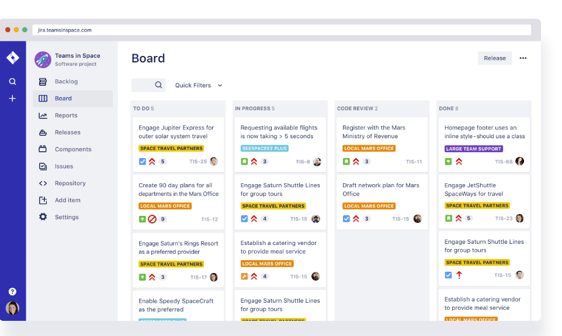 Screenshot of Jira's project management software
Top project management tools for agencies (according to a Databox poll of 32 agencies) include Teamwork, Trello, Asana, Basecamp, Jira, Harvest, and Accelo. View advice from the Databox poll respondents on how to best use project management software here. Find more examples of project management tools from Zapier.
File-Sharing and Template Management
At onboarding, you will likely be drawing on reusable templates and defined processes, which should be stored in a location with controls on versions, edits, and access. Examples of tools you might use include Box, Dropbox, and Google Docs. Some of these tools allow you to track who has viewed your document, which is particularly useful for storing sales and marketing assets that are used during the prospecting and lead nurturing stages. Read more about document template tools and file-sharing apps.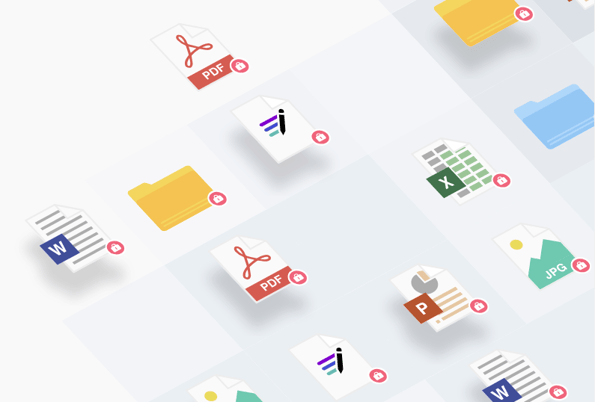 Screenshot of secured file icons on Box's site
Automation Tools For Account Management
In addition to tools that have already been outlined at earlier stages — in particular, project management tools — during the account management stage you might also expect to incorporate reporting and data visualization automation tools.
One thing you should not overlook here is incorporating client satisfaction surveys at specific intervals and asking for referrals and other opportunities (like case studies, recommendations, and additional business) when a client is particularly pleased with your agency's work.
Data Visualization and Reporting
When you send reports and updates to clients, it's wise to start with reusable templates and customize for the client and project, so that you aren't re-creating the wheel every time.
In their assessment of time-saving client reporting tools, Hubspot estimates that agencies typically spend four to five hours per client each month when manually reporting on digital metrics. Based on ten clients and an effective hourly rate per employee of $75, an agency might save $2,500 per month by automating their reporting process. Perhaps just as importantly, many of these data reporting tools are visually impressive.
Examples of data visualization and reporting tools include Databox, Megalytic, RavenTools, TapAnalytics, DataHero, Stitch, and Dasheroo.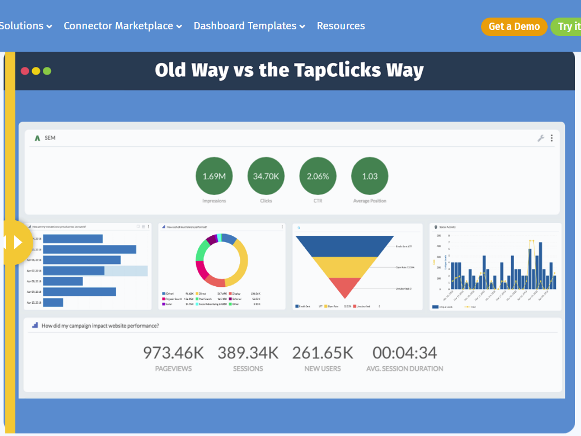 Screenshot of TapClicks' marketing reporting dashboard from TapAnalytics
Automation Tools For Separation and Post-Separation
When you have instituted processes built to enhance the client-agency relationship, separation doesn't have to be a bad thing. It's a natural part of the client lifecycle, and with the right handling, there is no need for it to be permanent.
At the conclusion of a working relationship, you can do an internal sit-down with your team to evaluate and assess the account, drawing on the data in your project management history. Have a conversation with the client to make sure you understand their reasons for leaving, and take the time to build bridges to future opportunities as appropriate (for example, a client satisfaction survey and possibly a referral request or an opportunity to publish a case study or client recommendation, if warranted). Finally, if the door is open for future work, be sure to include them in ongoing periodic updates about your agency (at a relaxed frequency).
The automation tools required for this stage (document storage, templates, and email drip campaigns) have been outlined previously in this post.
In Conclusion
As you can see, automation can play an important role to enhance your new business process and support the client-agency relationship across the client lifecycle. Though you must be careful not to over-automate and risk missed opportunities, the potential to improve agency efficiency and save valuable time can make for a better client experience. Where can your agency make improvements this year?
Don't miss our next post:
Read more:

Image credits: automation for agency new business © Adobe Stock/kras99