A couple of months ago, I wrote about the need for agencies to pivot into the new and future "now." Curious to see whether that has translated into visible change, I set out to explore how agencies have updated their websites in response to the post-pandemic reality.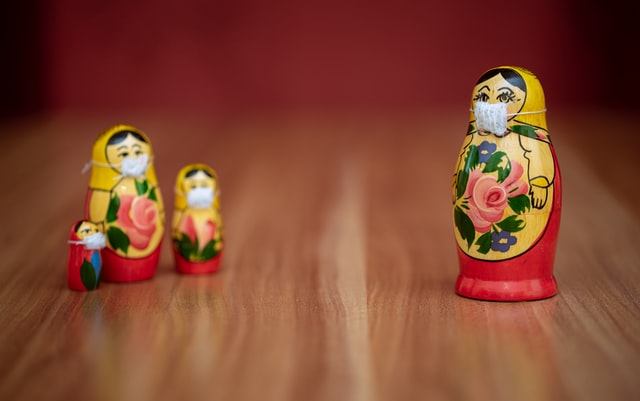 The original premise of this exercise was twofold:
1. Looking at services and positioning: The events of 2020 have completely changed the playing field, for some more than others. As brands face new challenges and circumstances, how have agencies adapted to offer contextually-relevant solutions?
2. Looking at content and messaging: Given that websites are one of agencies' most important new business tools, how are agencies using them to acknowledge and respond to challenges posed by recent events?
The approach:
I only looked at what is clearly communicated on agency websites. In most cases, I viewed the agency home page, blog page, services page, and news page. I looked at roughly 50 different websites, which were a combination of industry-leading agencies, regional agencies, and a few I quickly found by searching on the terms "digital agency," "experiential agency," and "multicultural agency."
Tracking evolutions in agency services and positioning
I quickly realized the challenges of identifying where agency services and positioning had evolved in response to COVID-19. I had imagined there might be some language that directly spoke to current conditions, but that was not the case for the agency websites I looked at, aside from a couple of experiential agencies.
For example, MAG is an experiential agency that appears to have recently pivoted to incorporate virtual events. Among the (apparently) new additions: a prominent homepage mention that leads to a new page, a navigation bar addition, and four post-pandemic articles. The virtual component feels like an add-on when navigating the site; the other pages don't seem to have been fully updated yet for this new offering.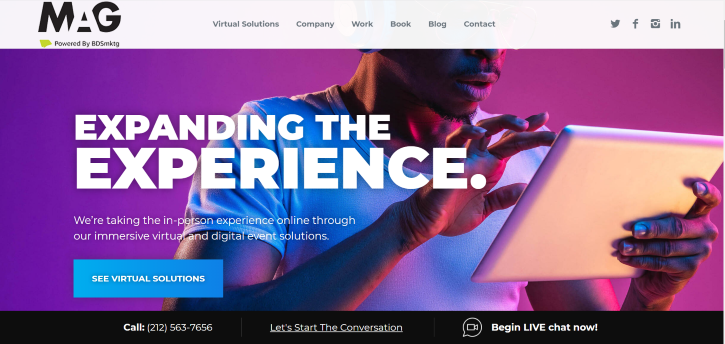 Agencies like MAG are redefining experiential, and this site exemplifies how agencies are creating new service offerings in direct response to COVID-19. That shows through MAG's virtual experience features, which include:
Tiered commitment planning cycles
Scalable contingency plans
New hygiene protocols
Pre-event virtual engagement
Web and Live Hosting
Content Creation
Livestreaming and VOD
Home Viewing Kits
Gamification
Custom Virtual Event Environments
App Development
Pre and Post Audience Engagement
Another example is Department Zero, also an experiential agency. They have a banner at the top of their page that reads: "COVID-19 + EXPERIENTIAL MARKETING: CLICK HERE FOR CREATIVE IDEAS, RESOURCES + BEST PRACTICES." When clicked, visitors are directed here, where the agency provides links to its COVID-19 Event Activation Policy, current CDC recommendations, and examples of "touchless experiential" marketing ideas.
Unlike MAG, Department Zero offers images of these ideas in action, providing tangible examples that are consistent with what many prospects would expect from experiential, but in modified, pandemic-friendly variations.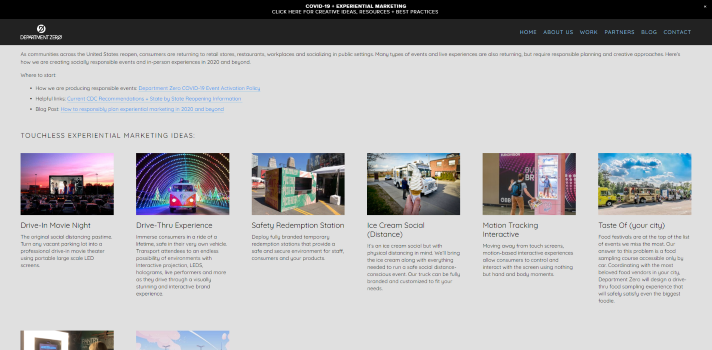 Experiential agencies have been forced on this sudden path of evolution most visibly. However, all types of agencies would benefit from evaluating how they might evolve to take advantage of opportunities in the post-COVID-19 landscape.
Consider these examples of areas where agency websites might need special attention in the new landscape:
Messaging
Does your website language stand out as inappropriate for the new context?
Here's an example: I stumbled upon an agency's website in March, and part of their core brand positioning was that they like to keep their hands dirty. Amid all of the public health messages about handwashing, their message didn't land where they had intended it to.
Another example: What if one of your agency's core selling points is the ability to work on-site with the client as an embedded asset? When many people are still working from home, is that a compelling differentiator?
There are so many opportunities to strike the wrong note now. It makes a lot of sense for agencies to conduct website audits and reevaluate their content through a post-pandemic lens, particularly for high-traffic pages.
It's not just about avoiding tone-deaf language and selling irrelevant outcomes in outdated ways. Also, look at whether your agency's messages speak to what businesses need now—things like proven results, the ability to do less with more, and speed.
Services
Does your agency offer services which are less relevant in the current market (such as experiential and OOH)? Conversely, does your agency offer services that have become even more relevant to brands' current needs (like e-commerce technology, digital media, apps, website updates, etc.)? Has the way that you offer those services changed, perhaps in the way they are bundled, or delivered? If so, it's likely that the way you talk about your services needs to change, too.
Many agencies have found that they need to offer different services in response to the evolving landscape. According to a study of 130+ digital agencies by Uplers, 29% of agencies have responded to COVID-19 by offering new services to clients.
"Agencies will need to modify the way they take clients to market, their services, and pricing for doing so."
— John Lincoln, CEO of Ignite Visibility (SearchEngineLand)
Everything has changed in recent months. From search term trends and images to budgets and purchasing habits, from key channels to consumer needs and wants. You have probably been working with clients to recalibrate campaigns based on these very changes. But what about how your agency needs to recalibrate? And is your website keeping up with your agency's changes?
Content
Posting current content is less relevant for agencies without a blog or a news page. If you are in the majority that has these assets, though, look at what has been published in the past four months.
How does it speak to the myriad challenges your clients and prospects are facing?
Does it provide them with actionable, thoughtful insights?
At a time when clients need agency expertise the most, is your agency fulfilling its role as a trusted advisor, helping them navigate change successfully? If that's not demonstrated on your website, how would a prospective client know?
We'll take a closer look at the different ways agencies have addressed the current climate on their websites below.
Context
Does your website include a visible update on how the agency is serving clients amid the pandemic? Are visitors reassured that the agency is still working through the crisis? Does the update speak to client and prospect challenges post-COVID?
John Lincoln of Ignite Visibility recommends that agencies have "a page on their website directly addressing COVID-19 and how they are helping customers." He says, "this should be visible on every page of the site. It should also give an update on any changes to the business" (SearchEngineLand). Several agencies are following this practice, as we'll see in the screenshots below.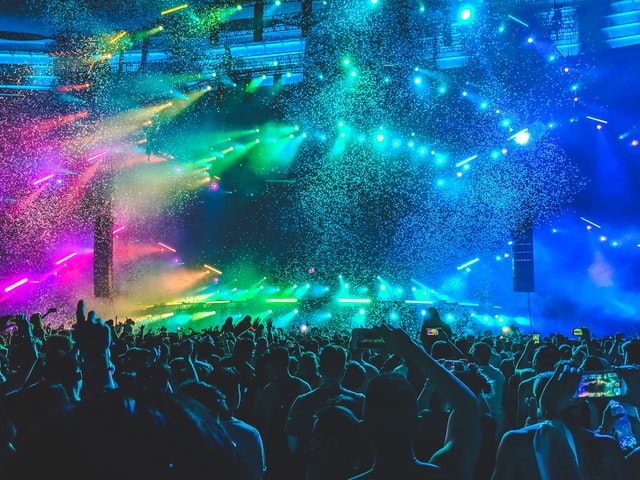 Images
The perception of imagery is both contextual and personal. In March, there was concern that images of large groups in close proximity might read badly. Amid greater optimism about things opening up and getting back to some version of "normal," such images may read more positively. Should fear again become the dominant emotion, it could change again.
If your agency prominently features event images with groups of people or even in-office gatherings, it may make sense to revisit those and incorporate more current pictures. The longer the pandemic affects our social habits, the more dated these pictures may appear.
For example, while exploring agency websites, I did not see any images featuring team members in masks. If masks remain the norm, before long, it will seem odd to feature pictures of people without them. Further complicating the matter, masks have become politicized, so agencies may find themselves inadvertently making a statement by featuring masks (or not).
Team pages
Given all of the recent furloughs and layoffs, the agency team roster should be an area of concern. I suspect many agencies need to update this section of their website. Is yours current?
A separate issue on agency team pages is how they present in terms of diversity and inclusion, and I'll explore that further in an upcoming post.
Evaluating post-pandemic content and messaging
In the second part of this exercise, I'm looking at whether agencies have acknowledged the pandemic on their websites (and if so, how). I have also made a note of agency content that is relevant to diversity and inclusion or Black Lives Matter, because those are also important parts of the evolving post-pandemic landscape.
I decided only to mention the agency websites I viewed which had this relevant content. Roughly two-thirds of my unscientific sample did not. It begs the question: why have so many agencies been radio silent on the major events of 2020? Did they send out an email or post some social media, and conclude that was enough? Were they spread so thin that they just couldn't get to it? Or was it something else?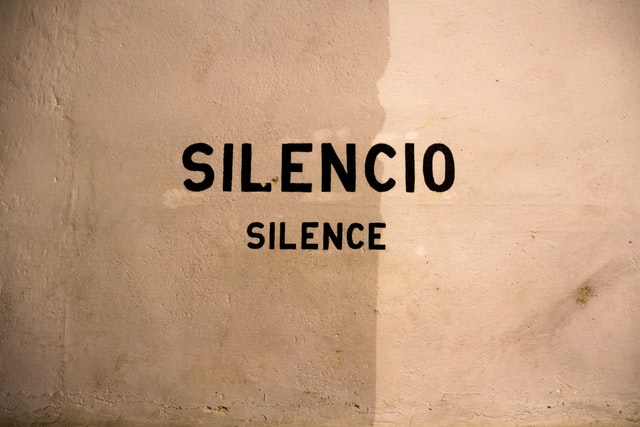 If the website is an agency's most important new business tool, and there is no acknowledgment of all that has happened in 2020 to disrupt the playing field, what message does that send to clients and prospects?
It's one thing when an agency just doesn't publish content to their site regularly (it's not recommended, but we understand that it happens as agencies focus on client work over their own). It's altogether different when an agency has continued to publish new content since March of this year, but none of it is topically relevant to the pandemic or diversity matters.
It seems very strange for an agency to actively publish content and still register a blank on major social and economic issues that are affecting all businesses and all people. Whatever the intent, such omissions say something about an agency. They are missed opportunities to demonstrate leadership and expertise, to make connections, and to highlight the agency's principles, priorities, and practices.
Appearances matter. Considerations like these can affect an agency's new business generation. If anything, I expect them to take on greater importance going forward as peoples' radars become more sensitized to them.
"There has never been a better opportunity to showcase what your agency stands for and how you're adapting to the whirlwind changes that are happening around you.
While you may be worried about becoming one of 'those' brands who say the wrong thing, the truth is that businesses who go silent during this time risk being dwarfed by those who aren't afraid to be open and honest... show [people] that you're still alive and trying to help them in such a difficult time."
—David Pagotto, Founder and Managing Director of SIXGUN (via DigitalAgencyNetwork)
Agency website examples
Here's a look at what agencies of all sizes are doing on their websites in response to the post-pandemic climate.
Wunderman Thompson
On their homepage, Wunderman Thompson features a slider with some of their latest and most topically-relevant content, including: How Brands Can Win In A Recession, Stopping Hate One Tweet At A Time (WeCounterHate Case Study), We Unequivocally State Black Lives Matter, Banking on Equality (Scotiabank Case Study), and more.
By hitting the right notes and making it impossible to miss, Wunderman Thompson demonstrates they are tuned in to the latest issues that affect their clients (and their clients' customers). Incorporating relevant, timely work is a great way to show prospects how they are translating their ideas into results.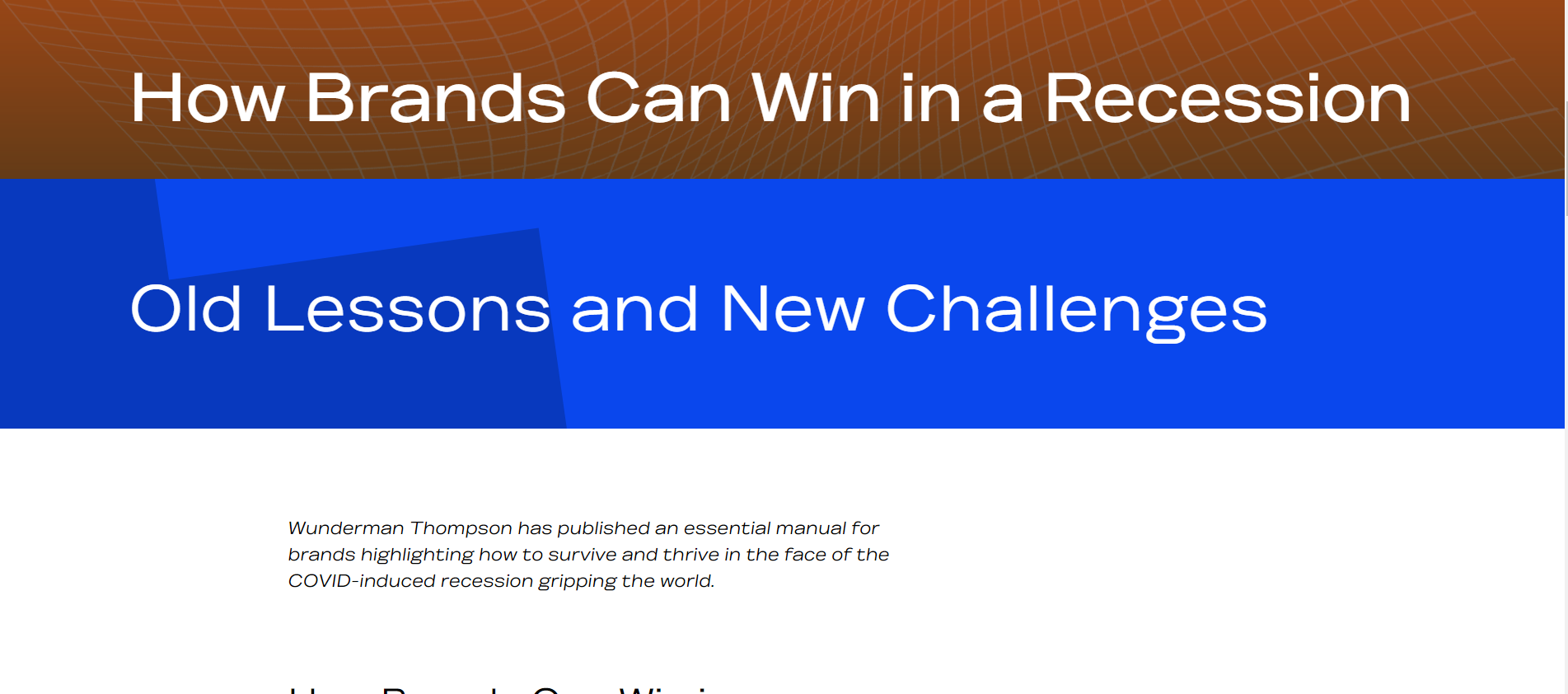 VMLY&R
Though lower down on their homepage, VMLY&R features a module called "Creativity in the Face of COVID-19." When clicked through, it leads to this page showing work they've done for brands amid the pandemic, as well as insights and thought leadership, and work they've done for the greater good. There is a lot here that would be of value to clients and potential prospects.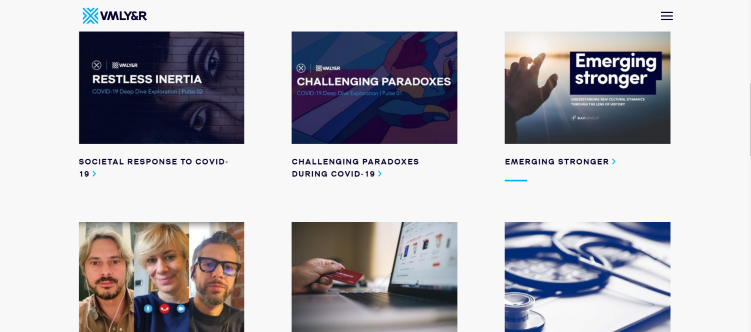 Publicis Sapient
Publicis Sapient takes a two-pronged approach to addressing COVID-19 on their website. First, they have a homepage slider with content, including: Is COVID-19 A Wake-up Call for Airlines to Renew Sustainability Efforts?, How Can Businesses Grow Under the Constraints of COVID-19?, and more.
Second, they have a banner across the top of the website that reads "COVID-19: Navigating the impact to your business. See our top strategies," prompting visitors to click. That takes visitors to this page titled "COVID 19 - The Groundwork for Growth: How Innovation Thrives Under Constraint." Organized into themes now, next, and how, this page has a ton of resources that can be used to help their clients and prospects.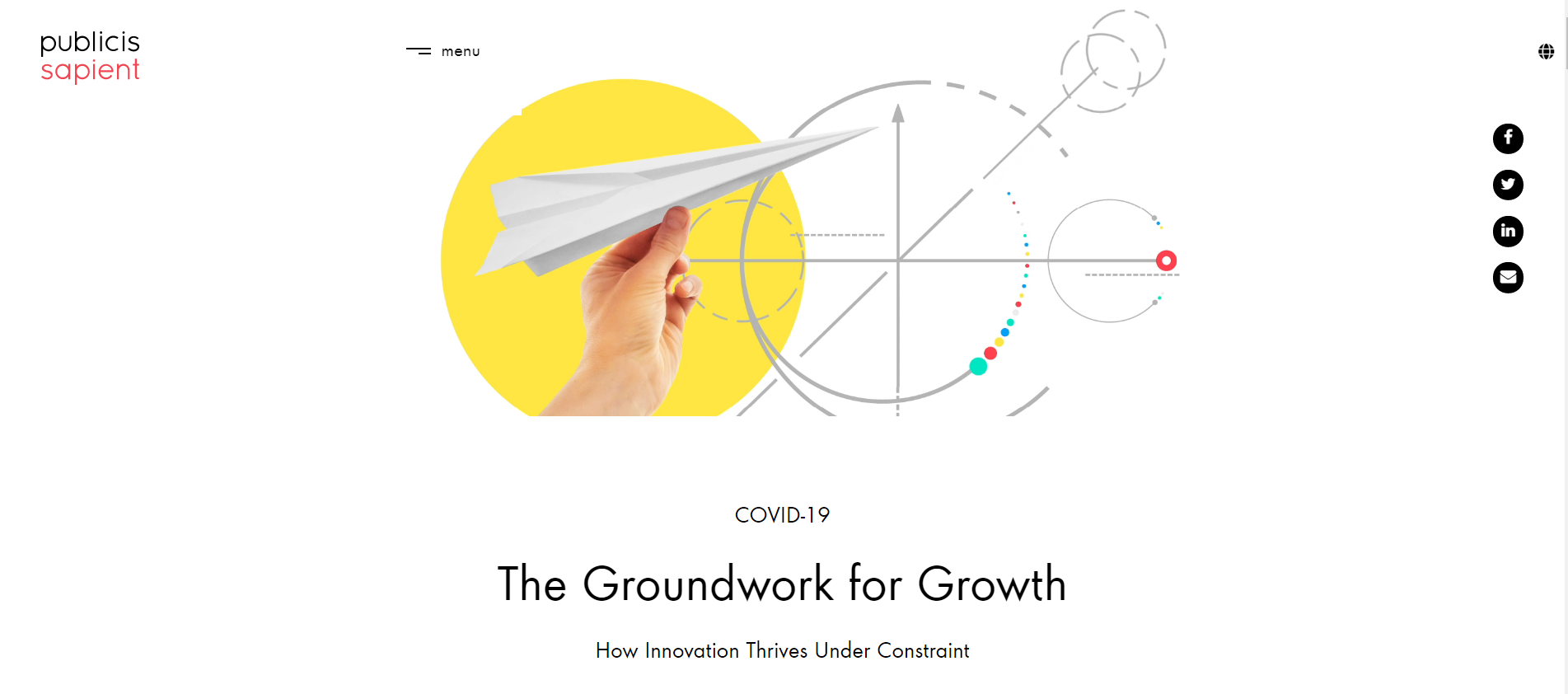 BSSP
On their homepage, Butler, Shine, Stern & Partners (BSSP), puts their recent work for Blue Shield of California front and center. Titled "ENOUGH," the simple yet impactful work shows Blue Shield's solidarity with the Black Lives Matter movement "by making it clear what they stand for and encouraging others to do the right thing."
Other work on BSSP's homepage includes "TOUGH," another campaign for Blue Shield that pays homage to the incredible efforts of healthcare professionals and other front line heroes amid the COVID-19 pandemic. There is also a link to what BSSP is doing in response to COVID-19.
One of their efforts is #FauciArt, a public interest art project. Additionally, BSSP's news page links to posts about their new CEO taking the reins "in the middle of a pandemic." While there is not much in the way of thought leadership content and actionable insights for current and prospective clients, BSSP's commitment shines through in the work they create.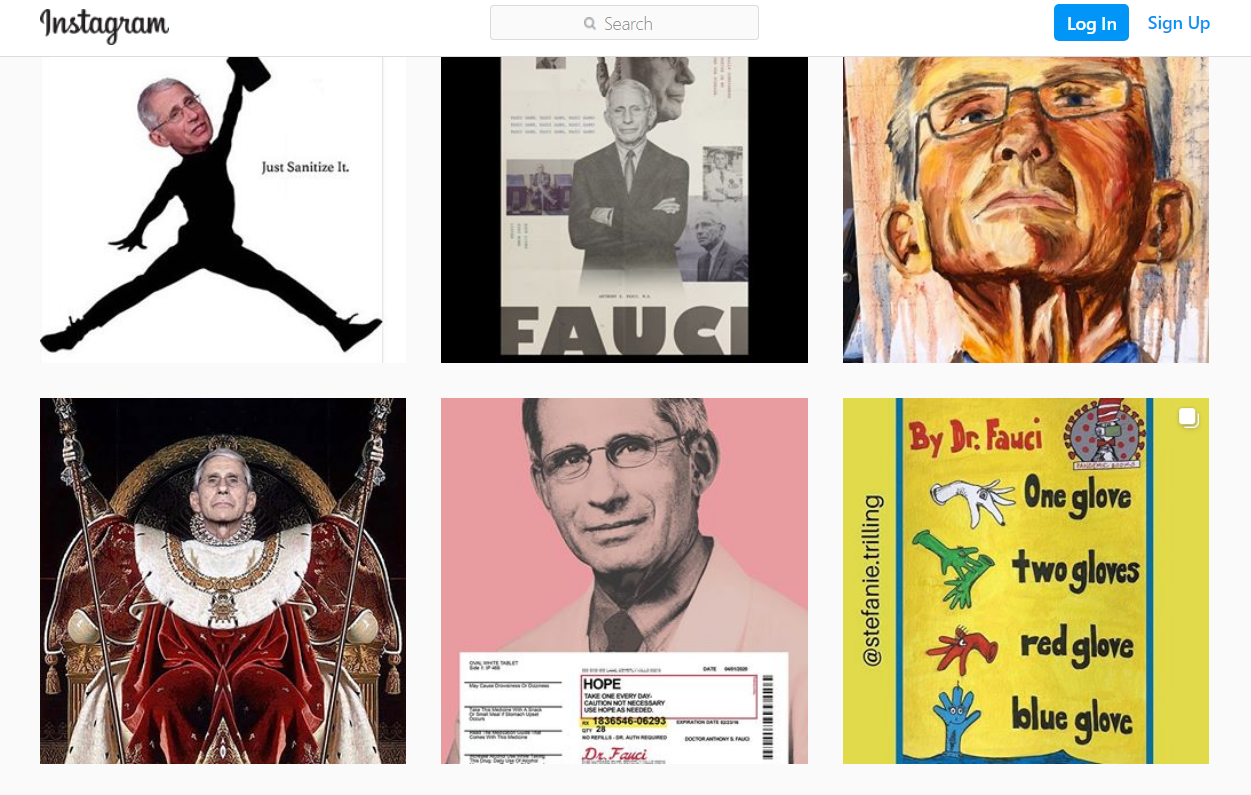 Ogilvy
Once I got past Ogilvy's homepage, I found their Ideas section hosts a wealth of content to read and watch on current topics, including Pride, COVID-19, Anti-Racism Resources, Inclusion, and more. A win for them on demonstrating thought leadership and topical relevance.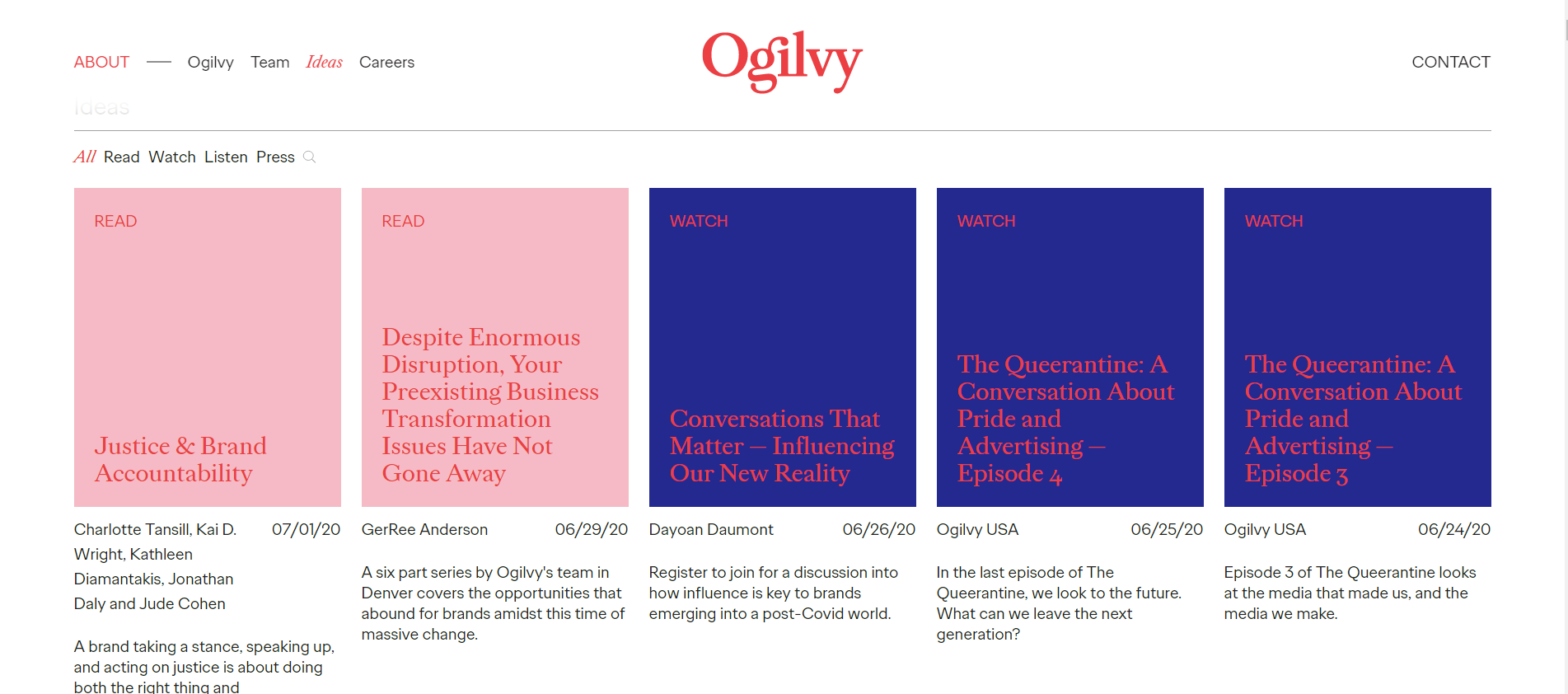 Huge
Huge's homepage includes a statement on Black Lives Matter, a link to the COVID-19 Insights and Data Hub (featuring new Research on Post-isolation Personas), and recent work for Realtor.com about sheltering in place. While they have less content than some of the other agencies, they get maximum mileage out of it and successfully demonstrate that they are ready to help clients and prospects with their emerging challenges.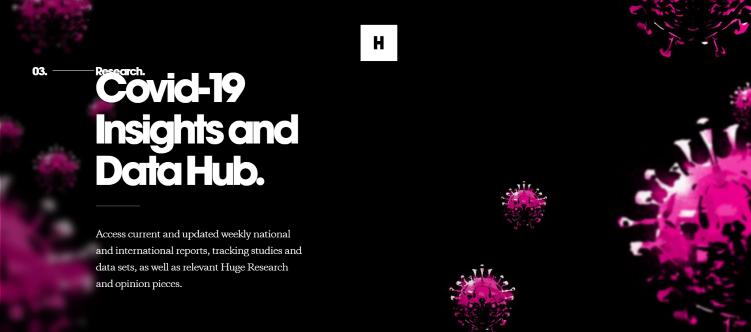 WPP
WPP's homepage features a statement on WPP's Commitment to Anti-Racism, and other content, including: Supporting Our Black Communities, The Barriers of Being Black in Britain, Why COVID-19 Will Usher In A New World Order in Sport, Inclusive Design 101, From Social Isolation to the New Normal, Virtual Venues, and How Brands Can Win In A COVID-19 Recession.
Their media page includes content related to fighting racism and helping brands reassure consumers in a post-COVID-19 economy. The WPP iQ page features even more content that can be sorted by topics, including COVID-19 and Diversity & Inclusion. There's a lot of valuable content here, and with multiple points of entry, it's impossible to miss.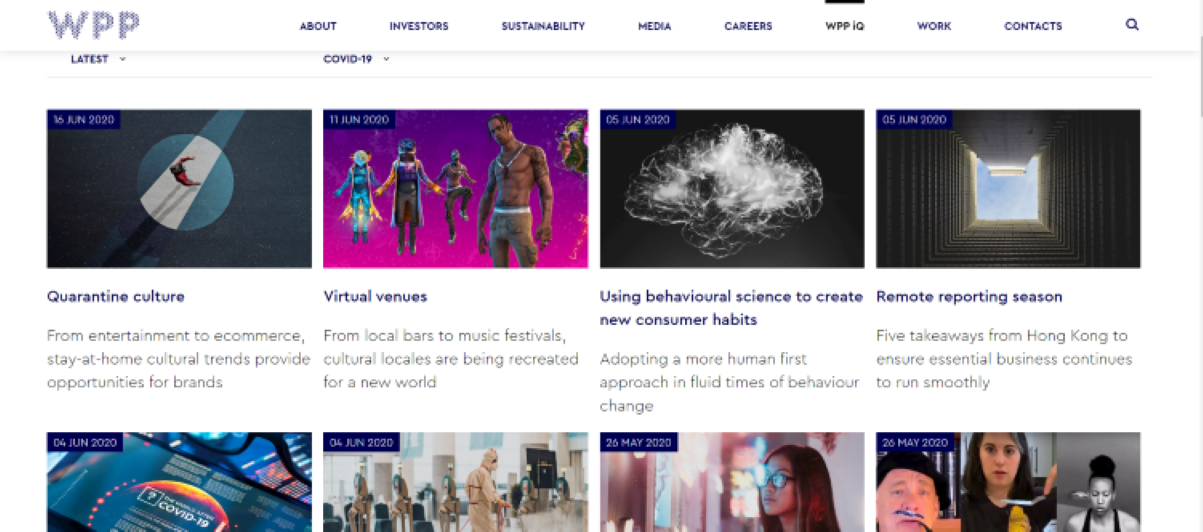 Division of Labor
Their homepage clearly states: "Division of Labor is an advertising agency not a government agency. So we won't ignore the virus and pretend everything is normal." Their New Rules of Work - Pandemic Edition page is a must-see. It's a "collection of motion graphics, kinetic typography and classic letterpress designs that bring to life the universal ideas we're all experiencing." They invite visitors to "drag any of these straight off our site and use them as you'd like."
I would describe their blog as less buttoned-up and perhaps less actionable than some other agencies' content—but it's entertaining, nonetheless. Recent posts include: Nobody Cares What a Small San Francisco Agency is Up To During a Pandemic, Advertising on TikTok In a Time of Crisis, and Holiday Advertising in a Pandemic.
Division of Labor shows that agencies can respond with relevant content in a variety of mediums and that formal research reports aren't necessary to demonstrate they are tuned in to current events and can help brands pivot accordingly.
KPS3
KPS3 is a regional PR/digital/marketing agency based in Reno, Nevada. I'm including them as an example of how even smaller agencies can demonstrate thought leadership and offer useful guidance to clients and prospects.
They've posted seven articles on their blog covering various COVID-19 topics written by several different members of their team. Titles include: There's No Playbook for Marketing In This Pandemic, The "What Now" Phase, How Brands (and Our Clients) Are Strategically Navigating Through COVID-19, and more. With these, KPS3 proves you need not be an advertising giant to reassure your clients and prospects with topically-relevant content.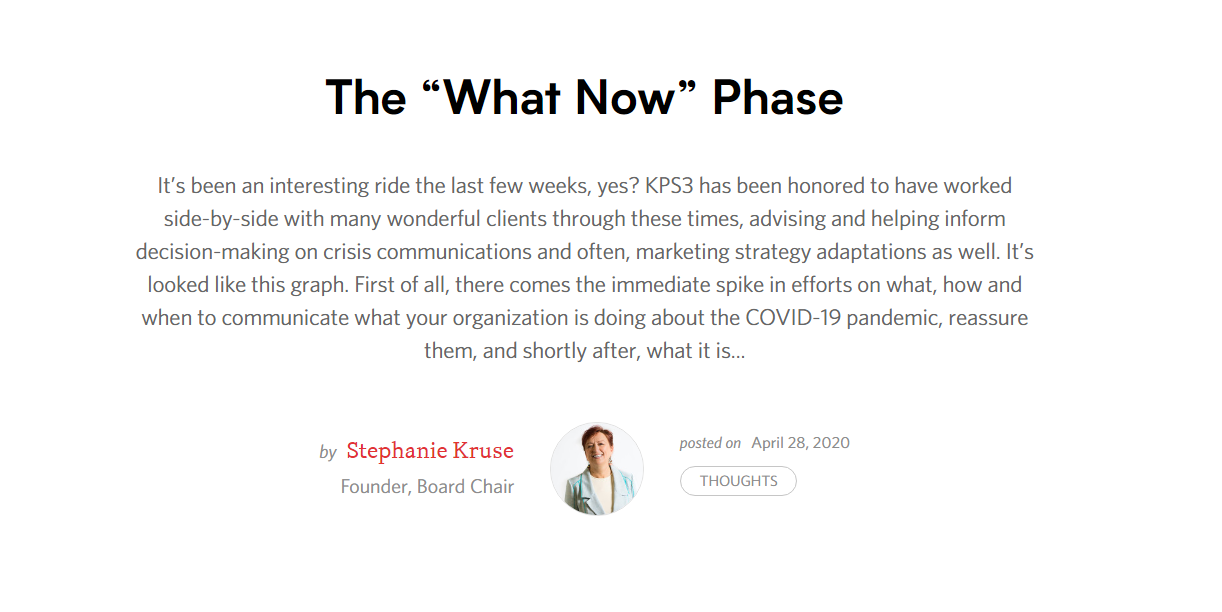 Jacob Tyler
Jacob Tyler is a San Diego-based design agency whose website has caught my attention in the past. Like Publicis Sapient, they feature a clickable banner across the top of their website. Theirs reads: "A message regarding COVID-19: Click Here." Upon clicking, a popup message appears in the form of a letter from Les Kollegian, Jacob Tyler's CEO + CCO.
I'm including this example because it is an easy-to-implement option that clearly communicates what the agency is doing in response to COVID-19. Sometimes, this is all that is needed, just a simple message to reassure clients and prospects. Any agency could easily do the same.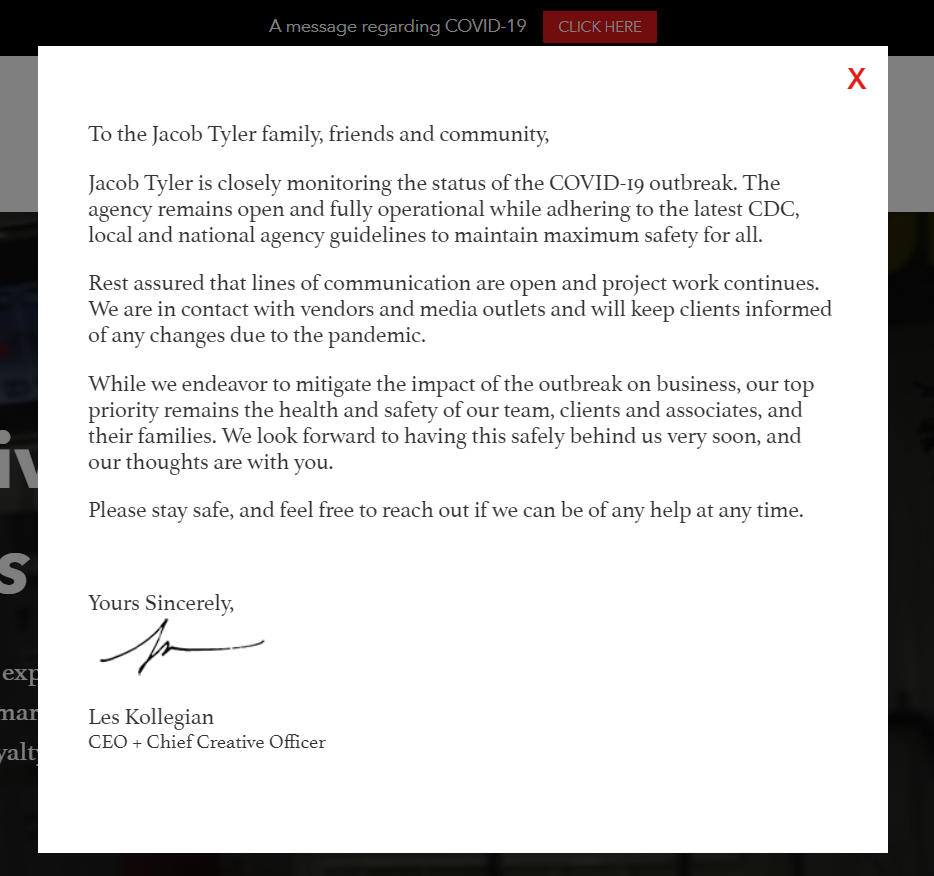 Parting thoughts
It's no secret that most agencies suffer the plight of the cobbler's children. Presumably, that's why so many have yet to update their websites for the "new now."
This post repeatedly references a "post-pandemic" reality, which may imply a punctuated event that has passed. Unfortunately, that is not the case. For all the optimism around reopening and heading back to financial recovery, the road ahead won't be easy. We are "post-COVID" in the sense that we are living in the time since it has been introduced. But we've yet to emerge on the other side of it.
That presents an opportunity for agencies to refine their messages, positioning, and to create solutions that will continue to support brands on this ongoing, bumpy ride. As new challenges arise, businesses will continue to need specialized, contextually-relevant guidance. If your agency has yet to demonstrate expertise by addressing post-pandemic issues and solutions, don't write it off. Just because you won't be the first one to address it doesn't mean you can't bring something of value to the conversation.
In this post, I've presented a variety of ways agencies have responded to the post-pandemic reality on their websites, including some "low-hanging fruit" options. Through their client work, reassuring messages, thought leadership, and advice, agencies that have opted to say something instead of nothing stand out in the eyes of prospective clients.
Read more:
You may also be interested in this post from Uplers which features 15 examples of how digital marketing agencies have responded to COVID-19 on their websites.
Image credits: pandemic context via Evgeni Tcherkasski on Unsplash; post-pandemic images via Aditya Chinchure on Unsplash; agency silence via Scott Umstattd on Unsplash.